This Sorting Candle Will Tell You Which Hogwarts House You're In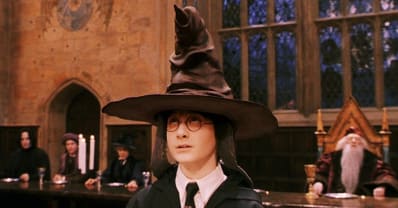 (Image credit: Warner Bros)
Move over Sorting Hat – there's a candle coming to steal your job.
According to legend, the magical hat that assigns wizards and witches to Hogwarts houses has accrued a thousand years worth of tenure with no sign of retirement on the horizon. But just in case this tried and true accessory needs a little break from its official house-sorting duties, this Harry Potter candle that reveals your house assignment when it melts makes for a suitable, visually appealing stand-in.
Currently available for pre-order on Etsy shop Muggle Library Candles, the sorting candle comes in white, but as it burns, the wax changes to either red, green, blue, or yellow to reveal the Hogwarts house to which you belong. This candle is honestly perfect for Potterheads who are really bummed about their Sorting House quiz results or those who think there's a flaw in the Pottermore sorting process (read: anyone unfortunate enough to be assigned to Slytherin House).
According to the product listing, the Sorting candle has a delightful scent to match its "magical" capabilities.
"The wax will transform to either red, yellow, green or blue! Even I won't know which house the Sorting Hat will put you in! This is a delicious lemony scent mixed with a musky combination of sandalwood, creamy vanilla, and patchouli," the description reads.
The 9-oz. hand-poured soy candle comes in a glass jar and sells for $14. If you're planning on faking your way into Hogwarts next semester with the hopes that this candle can tell you something about which house you'll be assigned to, you may want to hold off on your schooling scheme because the Sorting Candle orders won't ship until April 2018.
While waiting on your Sorting candle to arrive, feel free to peruse the Muggle Library Candles shop for other Harry Potter-themed candles.
h/t Hello Giggles
Apartment Therapy supports our readers with carefully chosen product recommendations to improve life at home. You support us through our independently chosen links, many of which earn us a commission.