This Tiny Mobile Sauna Is Exactly What We Need for Winter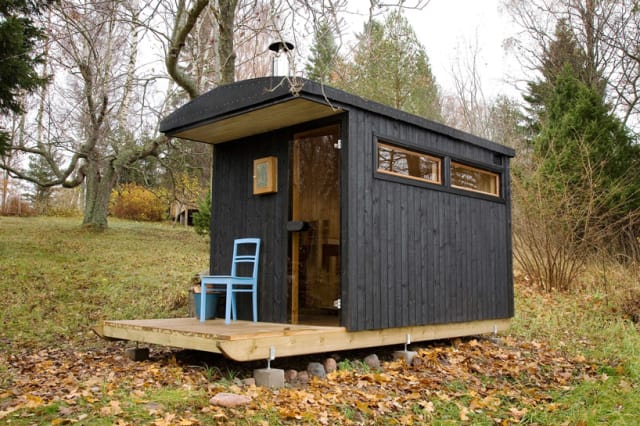 (Image credit: Denizen Works via Designboom)
With winter impatiently lurking around the corner, we're already envisioning the many ways to temporarily retreat to a heated haven while brisk winds and blizzards prepare to own our lives for the next few months. A room warmed by a fireplace will certainly do, but this tiny mobile sauna in Finland sounds like an infinitely better option. Here to provide the fire fix without the flames, the Denizen Works-designed project sits shore side on Åland, Finland. The clients originally wanted an in-home sauna, but opted for this tiny mobile space when they couldn't secure the necessary permits.
If this floating sauna in Sweden is relaxation goals, then we've discovered its tiny Scandinavian twin in this petite Finnish hideaway. Situated in a prime spot for cleansing the body and flushing out impurities in privacy (and with amazing water views to boot), the wood-framed structure measures just shy of 65 square feet. Builders used locally sourced materials to construct the sauna, including the internal cladding, which the owners purchased 12 years prior when seeking out planning permits.
(Image credit: Denizen Works via Designboom)
According to Denizen Works, the sauna took nine days to build from start to finish. They completed the project back in 2011 for a total of $4,000, and we imagine the owners have been in an R&R-induced state of bliss ever since.
"Our client had tried, unsuccessfully for many years, to obtain planning permission for a sauna. The planners do, however, allow the creation of mobile structures and so we built the sauna on runners to allow the sauna to be towed onto the frozen shores for a refreshing plunge into the icy waters during the winter months," the designers note.
If that description leaves you with saunaholic visions dancing in your head, you'll thoroughly enjoy watching the complete construction process for the floating Finnish sauna here.
h/t Curbed