This DIY Cemetery from TikTok Will Make Your House the Spookiest on the Block
We
independently
select these products—if you buy from one of our links, we may earn a commission. All prices were accurate at the time of publishing.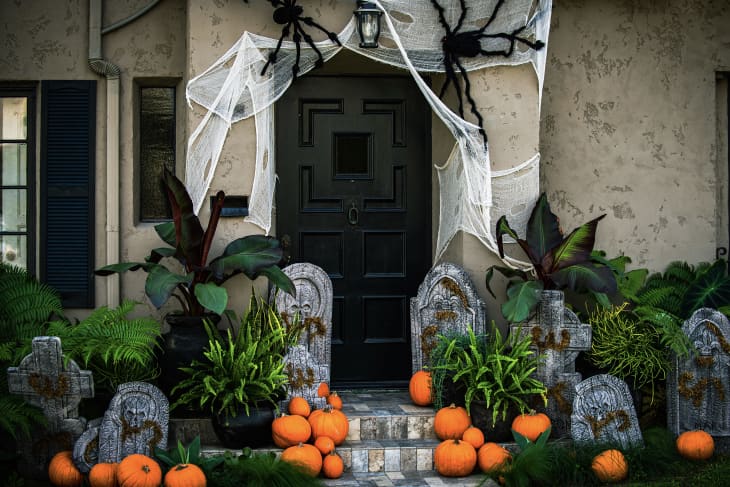 If you're really. into Halloween decor, you need to see this DIY cemetery — it is to die for.
TikTok user @buildandcreatehome has a series of tutorials showing us how to make our own fake cemetery for the spooky season. In a video from last year, she demonstrates how to make headstones, a coffin, and a ghost candy chute.
For the tombstones, she cut out and spray-painted 40 headstones. To add a touch of humor, they named some of the corpses, for instance: Izzy Dead and Ima Goner. Then, after installing the markers, she put in a few details for realism, like painting on moss and throwing in skulls and crows.
The coffin and candy chute are less time-consuming to make. For the coffin, she cut out the silhouette from plywood, attached some sides, painted it, and finally, placed a skeleton as its occupant. 
For the candy chute, she simply attached a drainage pipe to her front door railing, then made a ghost with its mouth open. The treats go in from one end, and gets spat out by the ghoul in the other.
When asked how long it took for her to finish all three projects, she answered: "Probably about 15 hours combined," and done over a three-day span.
But wait, there's more. This year, she has added an arched sign, like the ones you see in horror films right as the protagonists are about to break into a haunted estate. To make the entryway, she built a couple of pillars, attached foam heads to make it eerie, and coated it with mortar.
She then cut out the arch and lettering, calling her cemetery, "Killed & Cremate Home," which is a play on her account name, @buildandcreatehome. For the finishing touch, she attached faux ironwork and painted the entire arch black with a bit of rust-colored spray paint.
"Definitely not my easiest project but I loved the effect and it is a very dramatic statement to my Halloween display," she said. 
Of course, everyone loved her fake cemetery. "Omg this is amazing! I LOVE your dedication to making an awesome project!" reads one comment, while another follower said, "I want to bring my kids there. That's amazing!!!"
If you're dead serious about Halloween, you better get to building that cemetery ASAP.