Perhaps the Most Popular Chair Ever Made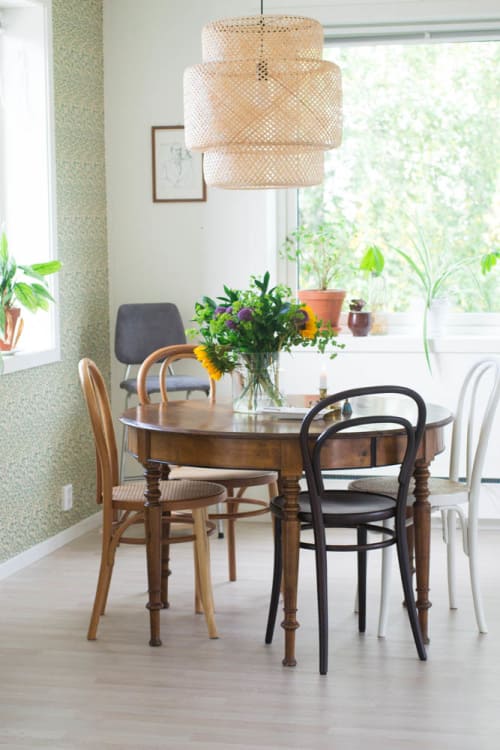 (Image credit: Submitted by Julianne Rydberg)
It may be hard to believe, but the design for the bentwood chair — that staple of restaurants and cafes everywhere — is 158 years old. The design was considered radical when it was introduced, in 1859, and more than a 100 years later it still has a certain lightness and modernity. This is a design that has appeared in all kinds of interiors, and has stood the test of time — a true classic.
Here are a few facts about the Bentwood chair:
A process perfected by German cabinet maker/furniture designer Michael Thonet in the mid 1800s, Bentwood furniture is made by steam-heating pieces of wood to high temperatures, and then pressing them into cast-iron molds and allowing them to dry.
Although bentwood furniture comes in many styles, the first chair to be patented and created using this technology was the No. 14 chair (designed by Michael Thonet), which was made from just six pieces of wood, 10 screws, and two nuts.
The chairs could be shipped disassembled to save on space, in much the same way that IKEA furniture is shipped flat-packed today.
The No. 14 chair went on to be one of the most popular chairs of all time, with 50 million being sold between the years of 1859 and 1930.
The Thonet company, which first introduced the No. 14 chair in 1859, still sells it today (as the 214). They also offer plenty of other bentwood designs, and are continually creating new ones, such as the Bodystuhl and Lehnstuhl chairs pictured below.
This interior from Jessica Scott, via her Instagram, pairs the original bentwood chair, the chair No. 14, with a later cousin, Josef Hoffman's Prague chair (no. 811).
A bentwood bench lends its graceful curves to a Spanish home from Style at Home. Some designs (this one in particular) have a bit of an Art Nouveau feel to them.
You usually see bentwood chairs in natural or black, but this one from Fantastic Frank is especially nice in a shade of blue to match the wall.
Bentwood chairs pair gracefully with a traditionally styled table in this dining room from Domino.
A pair of bentwood chairs flank a tulip table in an interior from Fantastic Frank.
Mix bentwood chairs together with other bentwood styles for a bit of variety. Image from Stadshem via My Unfinished Home.
This design, a relatively new take on the bentwood chair, is Nigel Coates' Bodystuhl, spotted in a restaurant from Claude Carter.
A bentwood chair-as-nightstand in an interior from Nienke Hoogvliet.
Want to get the look? Here are a few of our favorites.
Apartment Therapy supports our readers with carefully chosen product recommendations to improve life at home. You support us through our independently chosen links, many of which earn us a commission.