These Tiny Homes Pair Smart Tech with Affordable Housing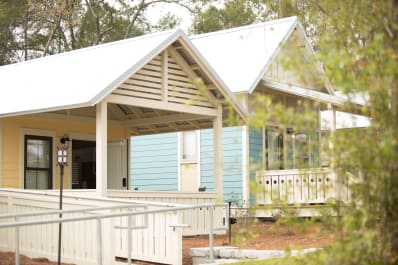 (Image credit: Courtesy The Dwellings)
The latest in a rapidly growing number of communities across the country embracing the tiny house movement as an urban solution for affordable housing, The Dwellings in Tallahassee opened its gates today to residents of the first 11 of 130 tiny homes planned for the Florida development.
Each tiny home at The Dwellings has been built as a "low-barrier" housing solution for those residents for whom first, last, and security constitutes a hardship. The development was designed with connectedness — through not just community, as with existing tiny home communities for the disadvantaged, but also smart home technology — at its core.
(Image credit: Courtesy The Dwellings)
"There is a real and critical need for this kind of housing, and The Dwellings is proof that low-cost housing doesn't need to be low-tech housing," said Rick Kearney, founder of the project. "The technology in these homes helps our residents gain access to the greatest support for their needs and also helps them save money."
Pitched as a way to help residents get a leg up, each 220- to 410-square-foot tiny home is equipped with the latest in smart home technology — smart TVs, fiber optic internet, smart locks, lighting, and electric meters. Each home even has an Amazon Alexa Echo to operate the smart home and assist in setting up transportation, doctor's appointments, and case management meetings. Though technology doesn't come cheap; while they won't have to pay anything up front, residents will need to come up with between $550 and $810 per month to rent a tiny home at The Dwellings.
(Image credit: Courtesy The Dwellings)
More and more cities and nonprofits are turning to tiny homes as a solution for affordable housing, and dozens of similar tiny home communities have already been built and thriving for up to three years in cities all across the country — with rents starting at zero up to around only $250 per month max. At a high-end rate of $810 per month, The Dwellings is closer to what it costs to rent a studio apartment in a popular, non-coastal city like Austin, TX — where one of the first tiny home communities for the homeless was built back in 2014.
Community First! Village in Austin and Quixote Village in Olympia, WA rent tiny homes to their disadvantaged residents in the ballpark of $200 per month. Tiny Homes Detroit opened earlier this year and charges $250 per month for its tiny homes on a rent-to-own model: residents will own their tiny home in about 10 years. And similar new developments are in the planning phases for San Jose, Milwaukee, Seattle, and nearly a dozen other U.S. cities.
Affordable housing is such an acknowledged (and growing) problem across the country that several prominent architecture schools have their design students looking at entirely new models for innovation — including movable, stackable pods in LA and turning decommissioned subway cars into duplexes in DC.