A Los Angeles Tiny House Village Just Opened to Aid the City's Homeless Population
We independently select these products—if you buy from one of our links, we may earn a commission. All prices were accurate at the time of publishing.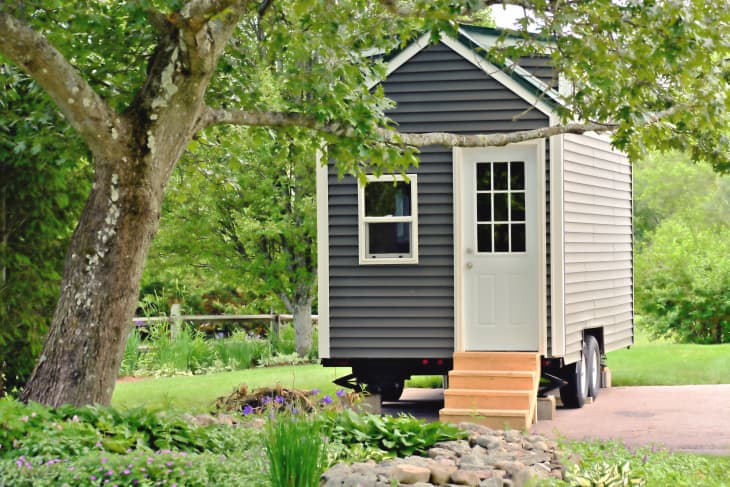 In early February, a brand new tiny house village opened its doors to the homeless population in North Hollywood, Los Angeles. It's called the Chandler Boulevard Bridge Home Village, and it offers 40 units in which one to two residents can call home.
Follow Topics for more like this
Follow for more stories like this
Each tiny house, which can be locked for safety and storage needs, is furnished with two beds, heat, air conditioning, windows, and a small desk, with the gated community offering onsite meals, showers, bathrooms, and laundry services. Office staff is employed onsite to help residents with housing questions, seek mental health treatment, and gain access to job opportunities and training within the city. The tiny home community will also help residents find more permanent housing once their time in the village is complete.
The Chandler Boulevard village was constructed in just 13 weeks by Lehrer Architects in collaboration with the Los Angeles Bureau of Engineering and is managed by the Hope of the Valley Rescue Mission. The community, which is the first of its kind in the Los Angeles area, opened on Feb. 2 and is currently at capacity.
"Our focus was to honor, nurture and restore a modicum of wholeness and delight to our fellow citizens without homes," founding partner of Lehrer Architects Michael B. Lehrer told Architect's Newspaper. "Every move is conceived to add significant value and be cost-neutral: in that vein, color is used extensively to create a sense of community and places of respect, dignity and joy. Projects for people at all levels of the social ladder, but particularly those near the bottom, remind us again and again that beauty is a rudiment of human dignity."
The community was erected within an abandoned lot that remained unused due to odd measurements. Because the homes are small and can fit into any arrangement, the lot was the perfect space to begin this initiative in the Los Angeles area.
In April, a second tiny home village is expected to open in North Hollywood. This one will have 200 beds and offer the same services.