The Surprising Way You Should Be Using Bleach Right Now
We
independently
select these products—if you buy from one of our links, we may earn a commission. All prices were accurate at the time of publishing.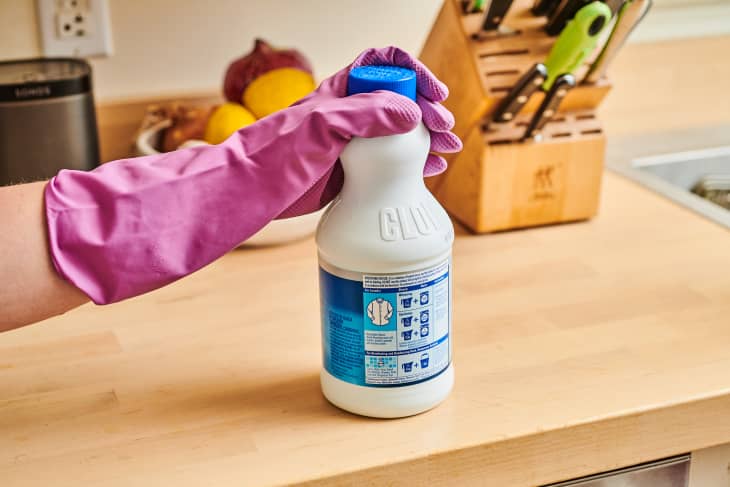 Bleach is a controversial household cleaner—or, to be more precise, disinfectant. Used improperly, bleach can be dangerous. You should always, always be careful when using bleach. And you should never, ever mix it with any other cleaners—especially ammonia, rubbing alcohol, and vinegar.
Used properly, however, bleach can be a safe and effective way to stave off germs, including the novel coronavirus. In fact, the CDC recommends a diluted bleach solution for disinfecting hard, non-porous surfaces.
And there's more! Bleach has uses beyond disinfecting, including one you may not know about but probably need right now.
Use Bleach to Make Your Christmas Tree Last Longer
Are you one of those people who got their Christmas tree the day after Thanksgiving? If that's the case, you might be struggling to keep it looking lively until the big day. The answer to your conundrum is bleach.
Just as bleach can help extend the life of your freshly-cut flowers, it can perk your tree up with a mixture of bleach, corn syrup, chelated iron, and water—also known as Christmas water. The bleach helps prevent algae or other growth; the corn syrup feeds the tree, and chelated iron is just iron, in plant-available form, which helps keep your tree green.
There are a few different recipes on the internet, but they're fairly similar. Combine 1 1/2 – 2 teaspoons bleach, 1 cup corn syrup, 2 tablespoons chelated iron (find it at the nursery or garden center), and 8 cups of hot water. Stir to dissolve, then pour into your tree stand. Freshen up your tree's Christmas water supply when needed—i.e. before the water goes below the cut end of the tree.