5 Super-Smart Tips to Maximize Your Trips to the Laundromat, According to a Laundry Expert
We independently select these products—if you buy from one of our links, we may earn a commission. All prices were accurate at the time of publishing.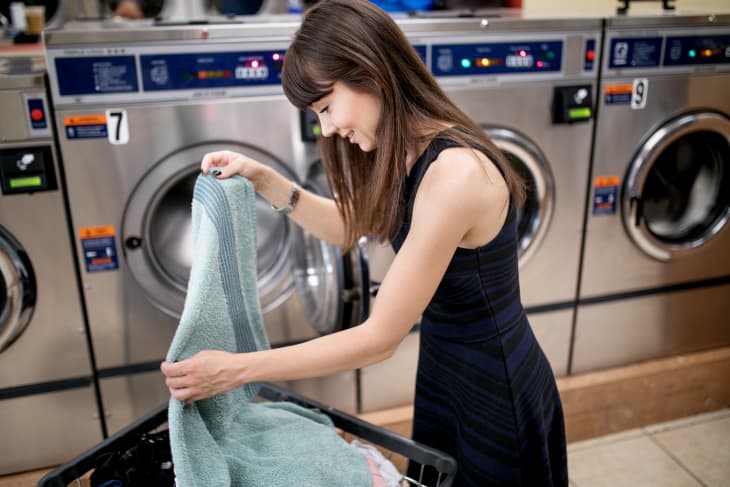 If you don't have a washer and dryer in your home, you might spend a good amount of time at the laundromat. Laundry isn't all that fun in general, but doing it outside the home presents its own challenges. Hauling all your dirty clothes there and back, plus the hours you spend waiting for your laundry to get clean and dry, can be cumbersome and time-consuming. 
The good news is, with a little strategy in place, laundry days don't have to be a drag. Here are five super-smart tips for maximizing your trips to the laundromat, according to Wayne Edelman, garment care expert and founder of Meurice Garment Care.
Sort everything ahead of time. 
If your goal is to spend as little time in the laundromat as possible, you'll want to do some work ahead of time. That's why Edelman suggests separating your laundry at home into groups based on their materials and colors. You'll not only save minutes, but you'll also make sure you bring the right tools along. "It makes much more sense to know in advance how many loads and what type of soaps, bleaches, and softeners your trip requires," he says. "No need to lug a sodium bleach if the laundry you are washing does not require it." 
Bring the right tools for non-dryer items. 
Depending on what you're washing, not all of your items will need to end up in the dryer — but they still need to dry. Edelman recommends bringing hangers and mesh bags with you to the laundromat. That way, you can start the air-drying process while your other items are in the dryer, or at least put them away separately from your dry clothes and then air dry at home. 
Peek inside the washer and dryer before using them. 
In a hurry, you might not pay all that much attention to the washer and dryer, as long as they're empty. But you may pay the price later on for rushing. Edelman recommends laundromat-goers always inspect the washer and dryer before placing clothes in them and running a cycle. That way, you can be sure not to get other people's dirt or residue on your stuff and have to re-wash your clothes. 
If it's busy, wash items that need drying first. 
There's nothing worse than getting to the laundromat to do a few loads, only to find just one available washer and dryer. To stay on schedule, Edelman recommends washing clothes that need drying first. "Then you can use the same machine for the second wash while your first wash is drying," he says.
Bring your folding tools with you. 
Tossing everything in a basket straight out of the dryer may mean less time at the laundromat, but it's also an invitation for wrinkles. Before you fold your clothes at the laundromat, Edelman recommends using wipes to clean up surfaces (you don't want someone else's germs on your fresh clothes or, just as gross, visible grime or residue). If you like to use a folding board, be sure to bring that with you, too, to speed up the process. 
Spring Cleaning Cure 2023
Get your home tidy and clean with 10 simple tasks — it all begins April 12.