Top Tricks for Making Grocery Store Flowers Look Great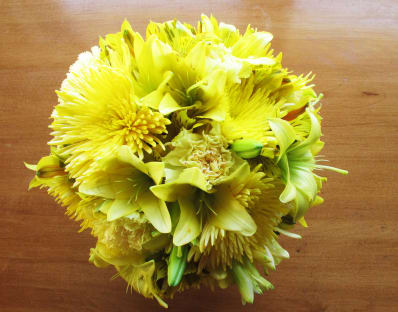 As wonderful as it would be to decorate your home with flowers gathered lovingly from your lush, rambling garden and arranged impeccably by the finest floral artist in the land, here in reality-land we generally have to go with 1) what we can afford and 2) what we can get. And when what you can get is the grocery store's finest 3/$12 deal...
...go monochrome! The single color bouquets are definitely the way to go. Now that you know the simple "rule" on what to buy, here's how to create a gorgeous, professional-looking arrangement, even from a less than impressive selection.
1. Don't despair if your grocery store's flower display is less-than-inspiring! Grab all the flowers in the same color that you can get your hands on... and you'll be amazed what a difference a little fluffing and trimming makes.
Let's start with the yellow: my grocery store (a non-fancy, non-Whole Foods, non-Plum Market type) had a decent selection of flowers in yellows, ranging from nearly-neon lemon yellow to a rich golden. I selected (left-to-right) carnations, alstroemeria, spider mums, and lilies in a mid-range of hues.
I stripped all of the leaves off the stems, including the long leaves that weave themselves amongst the alstroemeria blossoms. You could definitely leave these on, but I wanted yellow only, please.
I arranged the stems in my hand, doing my best to achieve a natural-seeming randomness (Please see The Essential Step: Flower Processing for more details). These particular easy-to-find flowers have a pleasing amount of fluff, and interlock with each other nicely. Notice that at this point, the stems are still long.
Once I decided on which vase to use, I chopped the stems down and secured the arrangement with a rubber band. I left the stems about 3 inches longer than I thought I'd need them to be, just in case. Once I was certain that the vase I'd chosen (a pale brown Heath teapot, actually) was suitable for the arrangement, I made my final chops.
Time for burgundy! The thing I like about both of these color options is that they are glowingly appropriate well into the autumn, without being cheesy. I particularly enjoyed putting the burgundy one together: alstroemeria with pale pink blossoms streaked with deepest burgundy, rich, magenta-ish carnations, and spider mums that were a delicate combination of burgundy, pink, and palest purple. One of my favorite things about monochromatic arrangements is seeing how the subtle differences play off each other, creating a richly varied but unified whole.
Once again, I stripped the leaves...
Then chopped and rubber banded and chopped again.
A burgundy arrangement would look fabulous in a black vase (especially for Halloween) or bright and modern in a white vase, but I plopped mine into a little jar that I'd spray painted pale gold. (Update: photos of the arrangements in their vases- well, teapot/jar- are now up on Myrna May.)
(Grocery store image by Flickr user Doug Waldron, licensed under Creative Commons. All other images by Tess Wilson)