Tips & Tricks to Bringing Fall Into Your Home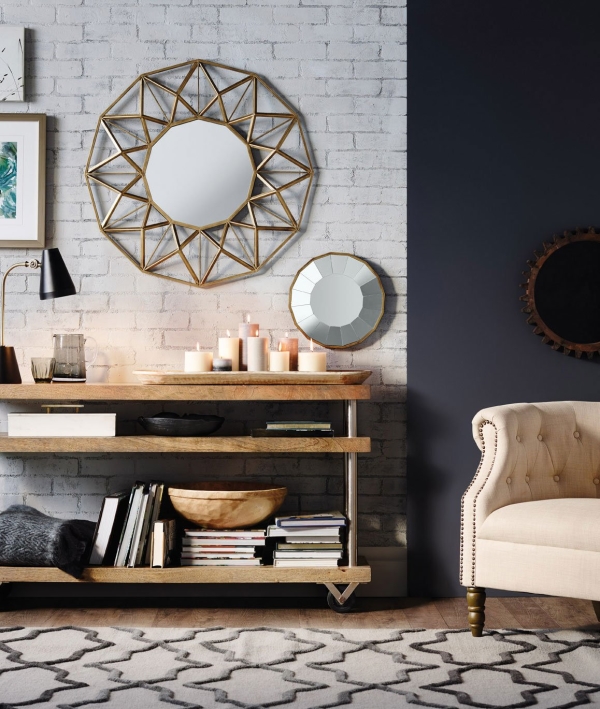 (Image credit: HomeSense)
From sandals to boots, tank top to sweaters – we all know the classic Fall switch-over. But with the approach of Autumn, switching over the seasons in your home is just as important. Now is the time to create a cozy environment to settle in and nest during those brisk evenings and colder weekends ahead. Thankfully, lush Fall colors and textures lend themselves to creative and vibrant displays of the most glorious kind. Transforming your home into a sophisticated, cozy den will be effortless, with just a few affordable key pieces and strategic placements:
Assemble an Autumn-Ready Entryway
With cold breezes making their way into our lives, there may be one or two mornings where you may snooze your alarm (more than once). Set yourself up with a kitted out entryway that has a spot for everything you might need for the morning. Umbrella, boots, an extra pair of gloves and a scarf or two, along with a mirror to check that your new fall-inspired lipstick is in check, will get you swiftly out the door and ready to address those winds.
(Image credit: HomeSense)
Create An Intimate Living Space
There's nothing more warm in the cool months than inviting friends over for a small gathering – so set the scene. Draping a faux-fur rug over your sofa and pulling up a few knit cable poufs make for an elegant nest you will want to curl up in, and that will make your guests feel at home. But don't leave cooler colors out of the game – darker textiles, like these charcoal drapes, can also add a cozy, restful mood to your living room.
Set Just The Right Lighting
Lighting can really make any space achieve the right amount of cozy, and Fall is the perfect time to add a little ambiance to your home. For a casual yet sophisticated feel, mix a few large pillar candles with varying heights and widths, like these creamy candles from HomeSense. Hosting an intimate dinner party? Mixing candle rings with small accents like pumpkins and maple leaves will make simple yet impressive centerpieces. For an even bigger effect, place your candles inside a lantern that will cast great shadows and light on your walls. HomeSense has lanterns and hurricanes with leather, rope, and wood accents to compliment your decor.
(Image credit: HomeSense)
Prepare That Cozy Reading Nook
Nothing says "cozy" quite like curling up with a book under a soft, ombre knit or microfleece throw. When setting up your reading nook, be sure to add a creamy faux fur scatter rug to keep your toes warm and ready to take on that new intense thriller or a political memoir of the juiciest kind. From flat woven wool rugs to plaid knit throws, HomeSense's collection of warm textiles will set you up in your snug reading retreat.
(Pumpkin) Spice Up Your Pillows
Push your autumn decor even further than candles and pinecones. For an easy Fall change, refresh your sofa with richer tones and cozier textiles by simply switching your decorative pillows. Indulge in the sumptuous feel of fur with HomeSense's luxe collection of faux fur pillows in warm cream, brown, black or plum. Don't be afraid to have a mix of sizes, prints and textures. This small but significant touch is just one of the various ways to make your home feel warm and inviting for the season.
Check out the endless possibilities and selections at HomeSense to make the Fall switch and start creating your own autumn sanctuary!
Don't forget to show us your HomeSense style by tagging #MyHomeSense on Instagram, Twitter, or Facebook!