The Brick House
We independently select these products—if you buy from one of our links, we may earn a commission. All prices were accurate at the time of publishing.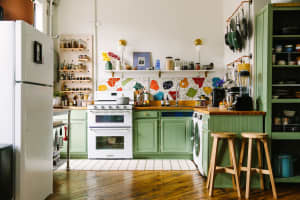 Can't-Miss House Tours Straight to Your Inbox
Keep up with our latest house tours each weekday with our House Tour of the Day newsletter
There's the common adage of taking lemons and making lemonade. We think Morgan and Jeremy have taken their situation a step further (their living situation "a careful balance between want and need"), squeezing out champagne from their modest, post-war Hemet home. Morgan describes their desert town as a "boring retirement community out in the middle of the nowhere in Riverside County", but they've curated an oasis filled with a sophisticated mix of midcentury classics and thrift store that feels both timeless and current despite the location. We like to think of it as a displaced Palm Springs residence that has found itself out in the middle of Hemet.
My/Our style: Vintage Thrifty Shazam
Inspiration: Thrift stores, Palm Springs, and all things Scandinavian. Mid century design and anything I can get for under $100.
Favorite Element: Guest bedroom. It's rad!
Biggest Challenge: Money. We need more of it.
What Friends Say: "Wow, it's nice in here!" and "Your couch is too low."
Biggest Embarrassment: The exterior. Working on it…slowly. Maybe the "poopicle" (toilet / cubicle) in the laundry room off the kitchen. What a mess.
Proudest DIY: Buying a house. Still can't believe that happened. The driveway may be our proudest DIY. It was just mud for almost two years, so we saved up, rented a tractor to grade it ourselves and then moved over 50 tons of locally sourced gravel by hand. It was our first major exterior project done on a tiny budget and it turned out fabulous. Now we just need handle the rest of the exterior.
Biggest Indulgence: Furniture and lamps. Can't get enough.
Best advice: Go slow. You have time or money, and honey it looks like you're stuck with time.
Dream source: 1st Dibs. Oh and some sort of magical labor. Like a fairy contractor who can make all the problems go away for free and with kisses.
Appliances: O'Keefe and Merritt stove we bought on Craigslsit, but the previous owners neglected to let us know that the oven was broken. Its been two years and its still not fixed. The Sears dent and ding fridge I've had since college and a microwave we found in the hallway of our old place that's missing the rotating glass dish part. We wash dishes by hand and I dream of a garbage disposal.
Hardware: Most is original from the 1950's, Ikea, or DIY. We still have the realtor lock box on the front door. I'm hoping when we go to sell the place it will still be there!
Furniture: Salvation Army, Angel View Thrift, Revival Thrift, Goodwill, Hemet Hospice, Craigslist, garage sales, flea markets and estate sales.
Accessories: eBay, Etsy, a crap load of thrift stores all over Southern California.
Lighting: DIY, Ikea, Craigslist and thrift stores, yet again.
Paint: Behr Ultra Pure White and Pure Black. Keeping it simple.
Flooring: Original hardwood we refinished and black VCT from Home Depot (we installed it in the bathrooms and kitchen).
Rugs and Carpets: Cowhides from Craigslist, the TÅRNBY from Ikea, and a vintage white shag rug from Angel View Thrift.
Window Treatments: All our windows are done in cheap ENJE roller blinds from Ikea.
Beds: Vintage Danish teak bed frame from Craigslist, and the Vinstra from Ikea.
Artwork: Mostly all the art comes from thrift stores including an original Josef Albers lithograph from 1966 that I got for $4.99 at Goodwill. Some friend's pieces and some of my own artwork and installed throughout as well.
(Thanks, Morgan and Jeremy…and Iggy Pup too!)
And check our archives of ATLA's past house tours HERE
We've had amazing response to our Apartment Therapy House Tour Submission Form. While we will work with homeowners of our favorite homes to feature full tours, we will also share the best as House Calls — short, quick tours of readers' homes. Submit your home here.