Todd Oldham Wishes You An Art-Filled Holiday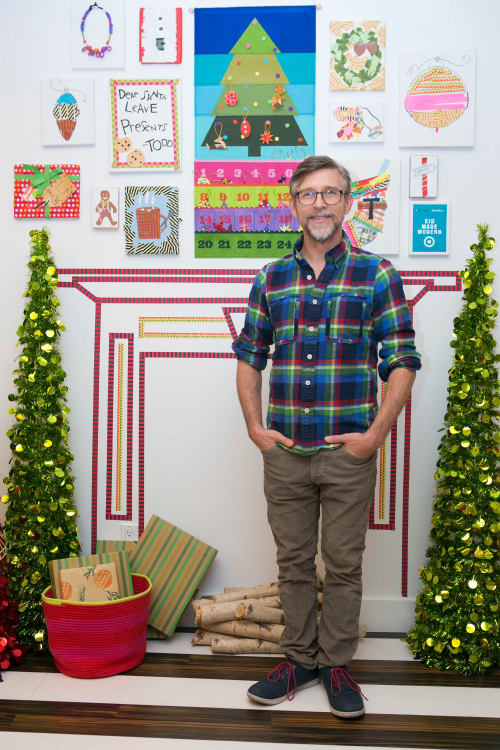 I spend a lot of time with my 5-year-old and his friends and their universe mainly consists of three activities: playing, reading (or being read to) and making art. This trifecta seems to be the ingredients to a happy childhood and perhaps a happy life! But which one do we least engage in as adults? I'd say art. Todd Oldham recently hosted an afternoon of art-making in his studio for kids and adults and it was great to reconnect with my inner artist.
It turns out my inner artist may be just an anal-retentive stamper, but small steps, small steps, people. Todd's studio was decked out for the holidays and kitted out with materials from his Kid Made Modern line with Target. I was familiar with some of the core supplies from the line, and for the holidays they've added more kits like a countdown to Christmas calendar, an ornament kit, create your own wrapping paper kit, and a stocking decorating kit.
There is something wonderfully freeing about making art with kids. They're spontaneous, imaginative and don't worry about being "right" or "wrong". And they really take the term "mixed media" to heart and combine materials and supplies liberally.
Christmas is perhaps the artiest, craftiest holiday out there (Halloween gives it a run for its money) as we decorate our trees, our homes and, sometimes, make our own gifts. Todd's family has their own art-based holiday traditions including one I'm going to steal: after the presents are opened they use the wrapping to make outfits and have an informal runway show. Fun!
What I like best about the Kid Made Modern line is that the tools and materials are high quality but the packaging and the whole tone of the line is exuberant, happy and accessible - for kids and adults. If you've ever wandered into an art supply store and felt like "I don't belong here.", you know what I'm talking about.
So this holiday or maybe make it your New Years Resolution, consider making some art. By yourself, with kids or with friends. Who knows, maybe we can convince Todd to throw an art party for the Gen X'ers, Y'ers and Millenials.