5 Things I Bring With Me When I Fly With My 2-Year-Old — and 3 Things I Leave Behind
We
independently
select these products—if you buy from one of our links, we may earn a commission. All prices were accurate at the time of publishing.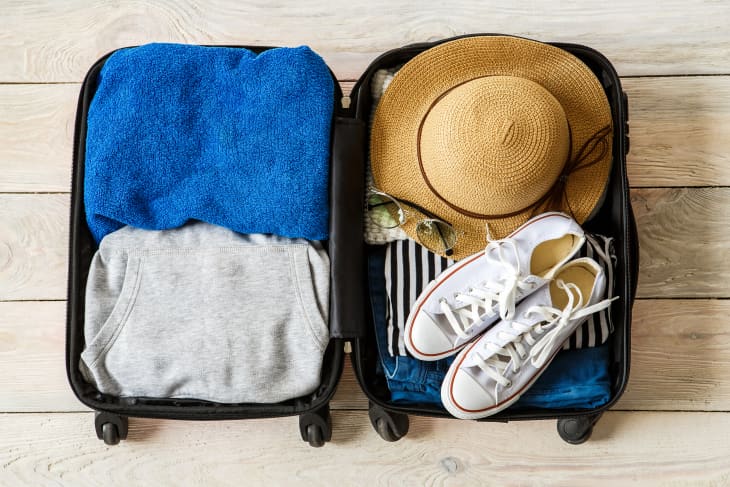 Traveling anywhere, for any period of time, can be stressful for even the most frequent of fliers. Traveling with a toddler or other small child? Forget it. Kids don't like to sit still, are prone to make huge messes, and have limited patience for being cooped up in one place. But if you haven't been on vacation or seen a loved one in a year and a half, or more, what do you do?
You take the plunge and fly.
I am originally from the United Kingdom and my husband works in aviation, and so before our now-toddler turned one, he had already clocked his fair share of air time. Because of this, and many (many) mistakes we'll chalk up to a learning curve, I've become quite the expert in traveling with a toddler. These are our family's must-haves — and must-have-nots — to get from point A to point B in the least stressful way possible.
No matter how long the flight, traveling with a toddler is not easy. Before you even get on the plane you have to lug them to the airport, check in, navigate security, find your gate, grab a bathroom break and, in all likelihood, deal with a few airport personnel who do not think your child is the cute little button you know they are. This is why before you even think about physical items, check yourself first. 
If you go into the day expecting stress, you'll find it at every turn. Instead, try and lighten up. Your kid spills their entire water bottle before getting to the airport? Hilarious! The TSA agent expects you to take off your shoes and unpack your bag while simultaneously holding your baby at all times? LOL! A blowout rears its stinky head minutes before boarding ends? These are the days. Things are going to happen, so take a deep breath and let them roll off your back. 
Take the normal amount of snacks you'd usually take for your family, then multiply it by three. I'm not sure if it's because time stands still in airports, or boredom in the air turns into hunger in the body, but whatever the reason, my family tends to consume travel snacks at record-setting rates. And given how expensive airport food can be, thinking ahead can save you money in the long run.
Some easily transportable options we like to carry are Annie's Original Snack Mix, Whenever Bars, blueberries and apple slices, and fruit snacks. Whatever you bring, decant them into sturdy snack pots, such as Hydro Flask's Food Jars, before you leave. It makes packing the day of so much easier, less food is destroyed, and you can also use the pots while you're on vacation. Quality pots are on the pricier end, but they keep hot things hot, cold things cold, and you'll only have to replace them if your kid throws them to the side at the exact moment you're not looking.
Sensibly-sized toys and games
There's a lot of hanging around involved in a travel day, which means there's also a lot of time to use up. Packing a variety of toys and games is key, but stick to this one rule: Don't pack anything your kiddo can't easily carry themself. Items like small action figures, toy cars, and farmyard animals all come in travel-size proportions, and also fit well into kid backpacks (just be sure the toys don't have any easy-to-break or swallow pieces!). My toddler loves to be assigned a task, and carrying his own backpack — especially if it's filled with only toys — is a perfect job for his power-hungry brain. Some other great options are Melissa & Doug's Water Wow coloring pads, which use water instead of felt tips for no-mess situations, and reusable stickers. There's also the iPad, obviously, but you're better off carrying that one yourself.
Wet bags are typically associated with cloth diapers, but they can come in handy for long days on the road for a variety of reasons. Between spilled drinks, bathroom accidents, or a place to keep your kid's spare clothing, they're an essential piece of gear. They're also much better for the planet than single-use plastic bags, and they often come in fun prints to match your vibe. Finally, they store super small and you can double-purpose them as your laundry bag while you're away.
If you're traveling solo with your little one, it's worth investing in a travel stroller. My brain can't quite grasp just how these feats of design pack down small enough to fit in the overhead bin, but they do, and for that I thank the world of engineering. We use the GB Pockit Stroller, and it's been a life (or back) saver on the longer days when my toddler doesn't want to walk anymore. They also have a nifty shelf for your water bottle and quick access snacks throughout the day.
Sometimes I whisper the word "airplane" and my Instagram immediately presents me with a new set of ads showcasing a variety of seat belts, seat extenders, and booster seats designed for traveling with kids. The inside advice? Scroll past every single one. Although in theory they may be a good idea, the reality is your toddler isn't going to care if you've brought the newest, innovative seat extender designed for their comfort. Do you know why? Because they're going to be on your lap. Or on the floor. Or asking to go to the bathroom. Save yourself the money and embrace all the extra quality time you're going to spend with them.
Some days, function beats style when picking out your wardrobe. Flying with toddlers is one of those days. Because you're on someone else's schedule, you don't know exactly how long you're going to be traveling for, and so keeping it comfy is your number one priority. I'm a fan of Duer's Live Lite Joggers, but the point is to find something that is super stretchy for racing through airports and keeps you looking cute at the same time. Bonus points if whatever you pick has pockets. It's also a good idea to bring a spare t-shirt for you as well as a change of clothes for your kids. Do you remember all those snacks I suggested you bring earlier? They may end up down your front. 
In fact, I would go as far to say you don't want a diaper bag at all. You want a built-for-anything-you-throw-at-it adventure pack with durability that is next to none. As a frazzled parent, the last thing you want is to be running through the airport due to a gate change to have your bag strap snap on you. Plus, where are you going to keep all your extra, random traveling things? After going through two or three proper diaper bags by the time our child turned one, I finally invested in Patagonia's Tres Backpack. It switches from a backpack to a shoulder bag super quickly, has three distinct compartments, and above all, is built to last. I cannot stress that enough.