Tom Hanks & Rita Wilson Are Selling Their Furniture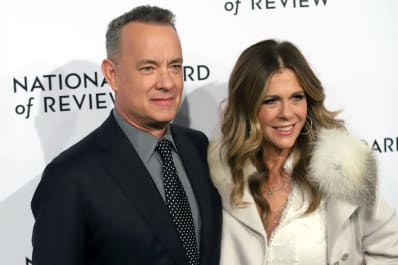 (Image credit: JStone/Shutterstock)
This celeb couple offloaded two luxurious neighboring properties for $18 million last spring, and now a little more than a year later, Tom Hanks and Rita Wilson are selling their furniture online.
It's not every day that you search the web for a fancy writing desk and come across one that belongs to a famous actor but if you mosey on over to Viyet on today, June 27 for the Hollywood pair's online auction, it could be yours along with several other upscale home goods Hanks and Wilson have put up for sale.
Among the high-end pieces that the couple wants you to take off their hands are a host of pretty special antiques and vintage items, including a 19th century carved wood Neoclassical style framed mirror for $5,000; a set of Anziano Klismos dining chairs for $ 6,550; a $5,000 hand-painted Italian secretary desk that previously adorned Hanks and Wilson's bedroom; a vintage French cast iron garden urn for $1,275; a $2,500 antique glass front bookcase; and a pair of gilded carved wood repurposed lamps for $1,000. Other items up for sale include lamps, chairs, coffee tables, ceiling lights, side tables, sculptures and basically anything else you can think of furnishing your home with (except for Hanks' Christmas tree decorations).
Naturally, many of the items hold sentimental value for Hanks and Wilson, who spoke fondly of a beautiful custom-made wood inlay round dining table that's up for grabs for $6,595.
"This is a hard one to part with! So many beautiful celebrations were spent at this handmade table by an artisan in New Orleans," Wilson said. "I can recall such good laughs and such happy memories of birthdays, dinner parties, and, most importantly, family dinners. I think good pieces hold a certain energy. I hope someone will have joyous moments around this table."
Needless to say, some of the items have already been sold while a few others have offers pending. Make your way over to Viyet to start browsing.