Tommy & Todd's Bohemian Chic Collection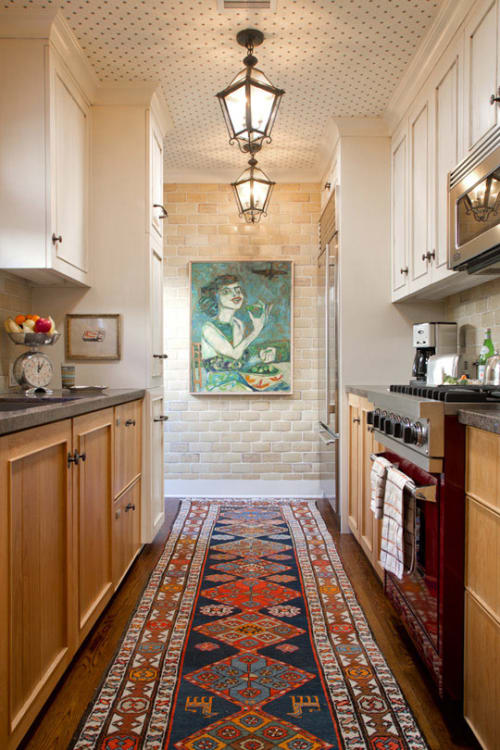 Name: Tommy Chambers and Todd Kusy
Location: West Hollywood — Los Angeles, California
Size: 1,250 square feet
Years lived in: 2 ½ years
Interior designer Tommy Chambers and his partner Todd Kusy live in a duplex flat which houses their wide collection of art and décor. Tommy has owned the building for ten years (but had always leased the units to tenants) and finally he decided to move his home and office in to both units side by side. Besides having the shortest commute to work I've ever seen, he also successfully merges various styles of art and design throughout.
When my friend Russell Brown referred me to Tommy and told me he was an interior designer it immediately piqued my interest. I love seeing where and how interior designers create their own homes. For Tommy and Todd, it's the personal items and nostalgia that hold most significance "The bulletin board doors of the master bedroom....photos of our friends and family, notes and memorabilia. A daily reminder that LIFE IS GOOD!"
This apartment flat holds a family room, a formal dining space, a long galley kitchen, office, two bathrooms and master bedroom. All this, along with a quaint backyard, make for a most cozy retreat from day to day routine, even it is just next door to where Tommy works. As a designer and homeowner I was curious to find out what he felt was the most essential part in designing a home - "Function Function Function! And having a place for everything. Order is a major part of design, and the more things you have, the more important it is to create places for them." Indulging in the warm weather is the first of many delights which they both love, "Being able to live outdoors all year round and doing so with ease....It allows you full access to all the seasons of the year.....entertaining outdoors all year round."
Apartment Therapy Survey:
Our Style: "Collected Bohemian Chic" I call it....
Inspiration: Interior Designers Joe D'Urso, Albert Hadley and Mark Hampton. My late Grandmother, Ann Oglesby, which introduced me at an early age to the Art of Living.
Favorite Element: the ART....all 219 pieces
Biggest Challenge: I wanted to live with all my art, family heirlooms and books. Everything you see has a story...a memory for me. How to make it all work together in 1250 square feet of space was my biggest challenge.
What Friends Say: "Don't turn off the fire pit just yet and bring out another bottle of wine"
Proudest DIY: Building the bedside table out of the recycled redwood lath boards from the demo/remodel...
Biggest Indulgence: Custom designed pop up TV cabinet in Living Room...
Best Advice: Live at or, even better, below your means...it will give you an ease and grace to your day to day life that material things can never do. One of my very first clients told me that for every penny he spent he saved a penny. That's why it took 4 years to complete the project...we only had so much each year to spend on decorating....but I believe and live by that thinking whole heartedly.
Dream Sources:
Painter: my painter Rafael of Rafael Painting here in LA. Best of the best when it comes to quality prep and painting. Great guy...great crew. I would never do a project without them.
Plumbing fixtures: Rick Brandley over at George's Plumbing in Pasadena...every faucet, toilet, drain, sink and towel bar is from them.
Tile and stone: Ann Sacks
Cabinet hardware: White Chapel LTD and Crown City Hardware.
Resources of Note:
PAINT & COLORS
• Benjamin Moore "Tapestry Beige" flat finish for the walls
• Benjamin Moore "Floral white" satin finish for all the trim...the perfect off white trim color!
LIVING ROOM
• About the ottoman's and couch: "Both are my custom designs made by my upholsterer Posse Furniture here in LA...but similar pieces can be found at CB2 and Ballard designs for example. Then make it your own by putting your own fabric on it by a local upholsterer. And most important is make play with the pillows. It is the easiest element to change and have fun with. Make the big upholstered pieces neutral and classic (so you can keep them forever and never tire of them) then go to town on the pillows and throws."
DINING ROOM
• Chandelier was from Pom Pom Hollywood here on La Brea
• The chairs were from Jayson Home very affordable on sale set but in black...I painted them the color you see now (Benjamin Moore "rendezvous bay" in a high gloss finish) and reupholstered the chair seats in a remnant fabric I found at the Pasadena City flee market. When we set up the dining room for 12 (6 blue chairs...2 are in the entry/LR) and my Grammy's 6 mahogany side chairs we just pull them from the other rooms. I did splurge on the gray/slate linen velvet on my Grandmother's side chairs. You need so little to cover the seats...it's a great way to get a moment of fine luxurious material/texture without spending a lot of money.
• A side note here in the DR as I sit here and look around....one can
decorate with things that cost nothing or very little....for example: the rock and wood pieces on the Japanese sword chest/sideboard I collected on my horseback riding 40th birthday up in Colorado with friends. Every time I see them it reminds me of that very special moment. And the tin candle holders on the wall are junk store finds from Provincetown MA were I spend a lot of my summers and where I met my husband to be.
KITCHEN
• All new kitchen (as you understand as you see the old kitchen next
door at office...it was just like that) I went all out with every element of the new kitchen. The cabinets are my design...I worked closely with my amazing cabinet and furniture maker Mike Cohen of SDM furniture makers here in LA to come up with the solid oak cabinetry.
• I chose to paint the uppers and stain the lower cabinets for visual interest and diversity. My favorite element of the kitchen is the Albert Hadley designed wallpaper on the ceiling. My hangers hate me for it but it gives such a playful layer to any room.
BEDROOM
• I designed a very simple two panel headboard and my upholsterer made
it for me. It's just two upholstered rectangles that hang on the wall
with flat cleat hangers. The faux stitched leather was on the
clearance table at Diamond Foam and Fabric here on La Brea Avenue.
OFFICE
• The sliding sleeper sofa is from Design Within Reach.
It folds into a super comfy queen size bed. Yes, it was pricey but no
more than a good sofa and bed would be if you bought them separately.
I had a custom skirt/cover made for the base to give it a custom look
and kick back the Italian slick modern vibe of the piece.
• The desk chair is designed by one of my all time favorite furniture
designers Arne Jacobsen, from Danish Design Store
But you can find similar well made designs at Room and Board for much
less...
• The playful alder wood cube end tables were from Viva Terra
WALLPAPER SOURCES
• The hallway/gallery and master bedroom grass cloth is by J.L. Larsen
(pattern: "wildside") available through Cowtan and Tout. I use this
wall paper all the time....it's perfect for art filled walls...when you go to move around your art and change it up you don't have nail holes to fill...it hides all of that.
• The fabric on the study walls (Cowtan and Tout's "Victoria Paisley"
fabric) I had paper backed and hung like wallpaper...it is much
cheaper to hang paper than upholster walls. I did do upholstered walls
in the much smaller powder room...it gives the room a feeling all its
own.
Thanks,Tommy and Todd!
Images: Bethany Nauert
Post originally published 1.18.12 - JL
• HOUSE TOUR ARCHIVE Check out past house tours here
• Interested in sharing your home with Apartment Therapy? Contact the editors through our House Tour Submission Form.
• Are you a designer/architect/decorator interested in sharing a residential project with Apartment Therapy readers? Contact the editors through our Professional Submission Form.
Apartment Therapy supports our readers with carefully chosen product recommendations to improve life at home. You support us through our independently chosen links, many of which earn us a commission.