Top 10 US Farmers Markets Worth a Trip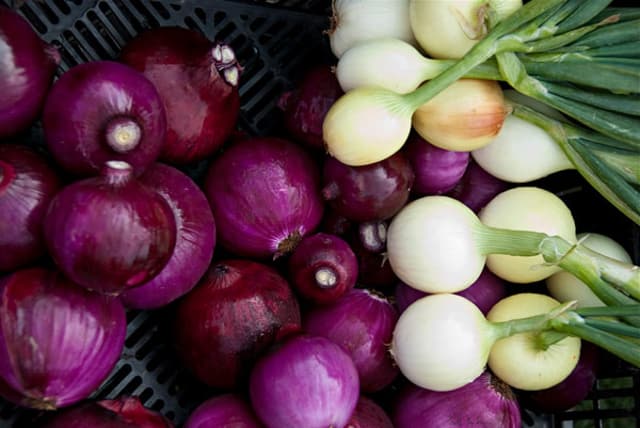 What do you look for in a travel destination? Good culture and shopping are bonuses, but great food is the clincher for us. There's no better way to get a sense of a region's real flavor than visiting the place where local farmers sell fresh produce. We read through the Kitchn's farmers market reports, scanned our go-to farmers market guide, and read through reader comments and reviews to pull together a subjective but solid Top 10 list of the country's best markets.
Austin, Texas
Austin Farmers Market
It takes place in 3 main locations: Downtown on Saturdays from 9 am to 1 pm (at 4th and Guadalupe), in Sunset Valley on Saturdays from 9 am to 1 pm (3200 Jones Road) and at the Triangle (46th and Lamar) on Wednesdays from 4 pm to 8 pm.
Brooklyn, New York
Grand Army Plaza Greenmarket
Open Saturdays from 8 am to 4 pm at Grand Army Plaza (Flatbush Avenue/Prospect Park West), this is Brooklyn's largest farmers market, with a diverse selection of produce, plants, and flowers.
Chicago, Illinois
Green City Market
From May through October, the Green City Market is open every Wednesday and Saturday from 7 am to 1 pm. In the winter, it moves indoors to 2430 N Cannon Drive. Alice Waters has called it "the best sustainable market in the country."
Detroit, Michigan
Detroit Eastern Market
Every Saturday year-round from 5 am to 5 pm, the Eastern Market (2934 Russell Street) hosts 250 independent vendors. The 119-year-old market draws up to 40,000 visitors on a busy weekend, and it maintains a reputation as one of the nation's best.
Kaua'i, Hawaii
Kaua'i Community Market
The beyond-believable produce is reason enough to take a trip to Hawaii. (Oh, and the surf and scenery's nice, too.) The islands host markets year-round, including a regular Saturday market at Kaua'i Community College for locals and tourists.
Madison, Wisconsin
Dane County Farmers Market
Held year-round on Saturdays, this market is one of the country's largest, with about 150 vendors who set up their stalls on the grounds of the state capitol building. In winter, the market moves indoors.
Manhattan, New York
Union Square Greenmarket
Manhattan's largest farmers market, it covers 2 acres and is open year-round on Mondays, Wednesdays, Fridays and Saturdays from 8 am to 6 pm. During the summer, there's a full schedule of events, including cooking demos and book signings.
Portland, Oregon
Portland Farmers Market
Located at Portland State University, this farmers market is open March through October on Saturdays from 8:30 am to 2 pm. In November and December, it's open Saturdays from 9 am to 2 pm.
San Francisco, California
Ferry Plaza Farmers Market
The Ferry Building hosts three markets per week: Tuesdays from 10 am to 2 pm, Thursdays from 10 am to 2 pm, and Saturdays (the largest and most popular market with special demos and events) from 8 am to 2 pm.
Santa Barbara, California
Santa Barbara Farmers' Market
A year-round Saturday market, the weather is almost always warm here and the stalls are filled with Southern California produce: strawberries, dates, avocados, and bunches of daisies. There are also rotating weekly locations during the summer.
Top Photo: Flickr member Seth Anderson licensed via Creative Commons 2.0