Top 5 Tips: How To Make Any Room Look Better in Photos than It Does in Person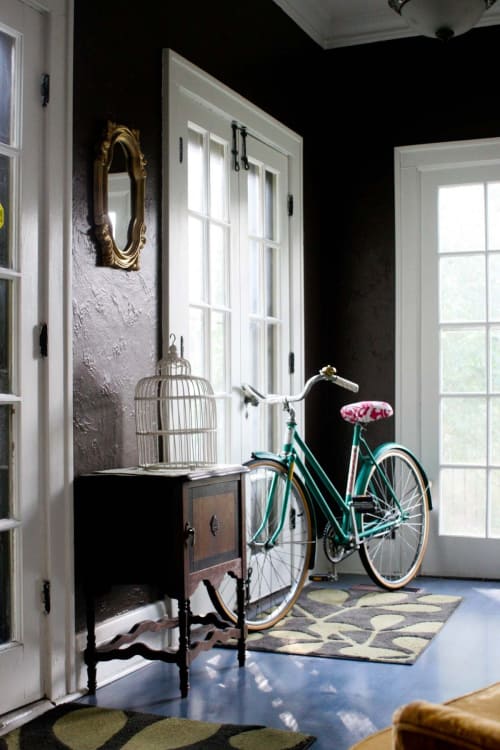 Psssst. Hey, so are you thinking about entering this year's Room for Color contest, sponsored by Chip It! by Sherwin-Williams? I can let you in on the absolute best way to garner maximum votes for any entry: take your time on the photos so you submit great ones. Again and again, over the years at Apartment Therapy, I've see how important the quality of the images are and, because I want YOU to do well and win big, here are our top five tips to make your room look beyond great, even better than it does in person...
1. Declutter (a lot!) and stage (a little bit!). This isn't about making rooms into something they are not, it's about putting a best foot forward. On the topic, Tonya Lacourse, a pro photographer, writes: This is always the first step to making your interior images sparkle. Obviously use your discretion, but I tend to remove most things from the kitchen counter, hide cords, make sure window shades are drawn to the same length, remove AC units, and hide remote controls and trash receptacles. I also take care to fluff pillows, add flowers if possible, remove towels from the bathroom, and strike an organized, minimalist balance. Dusting never hurts either.
2. Flash is NOT your friend. It's a simple fact when photographing interiors. Especially when photographing interiors for a COLOR contest. Tonya suggests: Photograph during the early morning or late afternoon, when the sun is softer and more even, and open curtains and shades to allow as much natural light into the room as the day allows. If needed, turn on lamps and overhead lights, but be careful, as they could cast unruly shadows, and your photo may be more successful without them.
3. Nix the slightly crooked shots and "batman" angles. Taking an extra moment or two to make sure that the vertical and horizontal lines in your room are straight and true in your viewfinder will pay off many times over. Is there anything worse than taking a great shot that you can't use because it looks a bit tipsy? If you have a tripod, use it. If not, experiment with placing your camera on a flat, stable surface at the right height to get the shot you need. If neither of those are an option, take your time and take multiple frames of your shots (see #5) so you are more likely to get one that is right on the money. Finally, wildly-angled "batman" shots, while fun for some situations, aren't the best for contest entries where potential voters are trying to get a sense of the space.
4. Shoot from multiple perspectives, angles and heights. Get up high and down low and shoot from both. The former might be better to portray the layout, while the latter will often feature the furniture in its best light. Also, use your viewfinder as a cropping tool when shooting. One example: if a straight-on shot of your full bed looks vast and blank, cutting off half of it with the edge of your shot and including more of the bedside table on one side can make for a much more interesting shot. Finally, really looking at everything in the frame before snapping the photo is important. If there are less attractive elements in view - simply shift your camera, either to the left or the right or from horizontal to vertical (or vice versa) to keep them out of the frame.
5. Shoot lots and then edit, edit, edit. The best thing about digital cameras is that, even though you are investing your time, you don't have to worry about film cost per frame. If you frame up a shot and think it looks great through the viewfinder, snap a few, rather than just one, and then choose the best to submit. Think of the time you spend editing your five images as an investment - it might just bring you that much closer to the grand prize! Bethany Nauert, another talented pro photographer, suggests the following as a basic shot list: Shoot wide angles, close in vignettes, details of textures and collectables, and most of all think vertically and horizontally.
Armed with those tips and a few extra minutes of your time, you will be well on your way to doing your best in Room for Color. The entry form is open, the editors have their eyes on the inbox, and we can't wait to see your beautiful, colorful room. Snap on and send 'em in early!
(Image: Ashley Poskin / The Pineapple Housewife's Happy Home House Tour)