Top Tips for Inviting Fall to the Table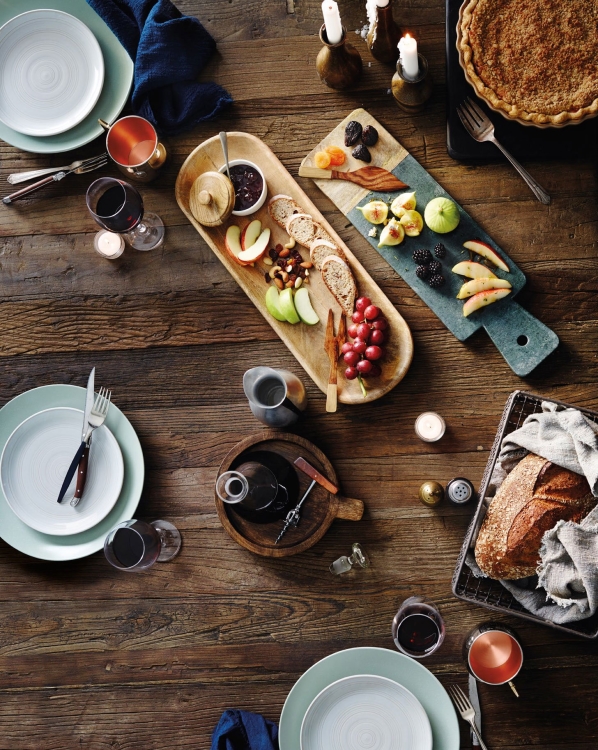 (Image credit: HomeSense)
Falling leaves, pumpkin seeds, candy apples and cozy throws, these are a few of my favorite things. Seriously, what's not to love about Fall? It's the time when my cooking is the most vibrant and my entertaining the most spirited. Having hosted many an autumn soirée, I've learned a few tricks (and treats) on how to invite Fall to the table. Here are some tips to inspire your own harvest gathering:
(Image credit: HomeSense)
2. Start With Wine & Cheese
Having drinks and snacks ready when guests arrive is key. As long as everyone has something to sip, and something to nibble on, they will be happy to hang out in the living room while you put the finishing touches on the meal. Put together a rustic cheese plate on a wood, marble or slate slab with a few stylish cheese spreaders. I try to include a good variety of choices, like blue cheese, apricot Stilton and pepper-crusted Brie. Serve them with a fresh sliced baguette, dried fruits, maple-roasted seeds, and honey for drizzling.
(Image credit: HomeSense)
2. Roast Your Recipe
A warm, roasted menu is definitely ideal for your autumn bash. Slow-roasting turns even the most humble ingredients into a savory feast, with the added benefit of infusing your home with taste-tantalizing aromas. Start with your favorite root vegetables and a whole chicken or turkey dressed with a little olive oil, salt and pepper. Using a presentation-worthy roasting pan like this gorgeous copper pan from HomeSense, pop your meal in a slow oven for a couple of hours. By the time your guests have had their first glass of wine dinner will be ready.
3. Copper-ly Set the Table
Setting the table doesn't have to mean centerpieces of fake leaves and a turkey-print table runner. I believe that if you have gorgeous serving dishes and trays, your guests will be highly impressed. From mule mugs to sauce pans to pepper grinders – this season is all about copper, and HomeSense has all of the copper essentials you need to set the table this Fall.
(Image credit: HomeSense)
4. Sugarcoat It
It's like I always say: no meal is complete without a comforting sweet. Tis the season for dessert, so serve your guests the tantalizing pumpkin pie or hazelnut torte they deserve. I usually bake my desserts the day before using a fluted pie dish or individual ramekins. But if you're looking to throw a bake-less affair, fill up stemless wine glasses with maple pudding topped with spiced pecans. It'll become an instant fall favorite. Whether hazelnut coffee or hot apple cider, offering your guests a warm after-dinner beverage will wind down the evening.
Ready to plan your next fall affair? HomeSense has endless possibilities to transform your gatherings.
Don't forget to show us your HomeSense style by tagging #MyHomeSense on Instagram, Twitter, or Facebook!