A Tiny Gutted RV Is Now a Fun Family Home for 4
We independently select these products—if you buy from one of our links, we may earn a commission. All prices were accurate at the time of publishing.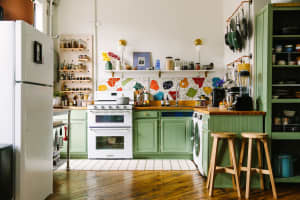 Can't-Miss House Tours Straight to Your Inbox
Keep up with our latest house tours each weekday with our House Tour of the Day newsletter
Name: Annie Robertson, husband, two sons (ages 4 and 7)
Location: Portland, Oregon
Size: 250 square feet
Years lived in: 2 months, owned
We are in the planning and permitting process of building a house from scratch, and our family faced an unexpected job loss. Rather than give up our lot and move out of inner Portland, where housing costs are ever-rising and we would be hard pressed to get into again, we decided to remodel a two-bedroom fifth wheel trailer!
We are stationary on our lot. Before starting his new job, my husband, Josh, took our two sons away for four days while I gutted the interior of all of its RV furniture, stripped wallpaper, sanded and painted every surface, and removed the carpet and vinyl flooring. I knew that if we were going to live in very tight quarters, I needed it to be our style and something that would make me smile and feel happy to be home.
I painted the main living area's walls white, but the monochrome look is not my style, so I painted the kids' room light teal (a color my youngest son chose) and used the same color on the bathroom cabinet, kitchen lower cabinets and refrigerator.
We wanted to stay on a lower-end budget and re-use as much of what we already owned as we could, so I bought upholstery fabric and batting at our fabric store's 50% off sale, some outdoor IKEA cushions, and taught myself how to sew couch cushions! Through trial and lots of error, I made some removable cushion covers with box corners that I'm quite proud of! Josh cut down an old bed frame to size, and we had a couch!
What is your favorite room and why? The dining area is my favorite, since it gets used the most. We eat most meals here, we color here, we play with SnapCircuits here, we will homeschool here. We splurged on a beautiful RV-ready light fixture from Lucent Lightshop for this space, I made a storage bench, and reupholstered some vintage chairs to make sure it was a cozy and inviting area. I love to sit and talk with my boys here, or curl up on the bench with my coffee and watch them play with kinetic sand while we listen to audio books.
The dining table was made from an old desk top we were going to throw away and a really junky table base I found on craigslist. I scrubbed the base, spray painted the metal a nice, clean white, and the table was ready for $30! I bought the vintage chairs out of my friend's trunk for $20 and covered them with a 1940s barkcloth curtain I've had for about six years.
Our very tiny kitchen. We only brought one set of dishes and silverware per person, and VERY minimal kitchen supplies. I cook most every meal and cook from scratch mostly, so this has been the hardest adjustment to living tiny!
Any advice for creating a home you love? Stay off Pinterest? I'm only half joking, because I do understand the inspirational aspect of Pinterest, but I don't want to feel like my home has to look like what is trending. If minimalism isn't your thing, display your collections! If you like old stuff that is cozy and a little kitschy, get it! Following trends is more just decorating than home-making, and while it's fun (I get it!), it just means you have to change it up again when New! and Better! are on the shelves. I dislike feeling like I have to spend much money at all or even buy new to have a lovely home! The thrift stores are your best friends.
I think a home comes together slowly, with collected pieces you love and found YOU. The challenging part in that is being content with what you do have in the meantime, and not looking for what is missing.
Ultimately, I want my home to be where people want to gather even when we're crammed in, sitting shoulder to shoulder, because they can let their kids climb on our furniture and we all be comfortable and ourselves. Create a place that is your (and your family's) respite from the rest of the world.
The most important thing for us was making this space kid-friendly, and a place where our boys would feel at home. They are excited to live in a trailer because they are young and it feels like an adventure. However, I wanted to prioritize giving them plenty of space to be kids. The "bunkhouse" originally had four beds and a wardrobe, but I ripped out everything except the two beds to give them space to move around. Their room is bright, full of colorful patterns they've picked themselves, bright toys, taped up pictures they drew…They have plenty of toy storage in their room, art supplies in our entry cabinet, and a giant tub of 1,000s of LEGO under our couch. If they're not playing outside in the fenced-in yard, they are taking over every inch of the floor with cars and magnet blocks, books and LEGO. It gets (mostly) cleaned up every night, but they know this house is just as much theirs as it is mine and Josh's.