This NYC Walk-Up Has an Incredibly Cute DIY Murphy Bed
We independently select these products—if you buy from one of our links, we may earn a commission. All prices were accurate at the time of publishing.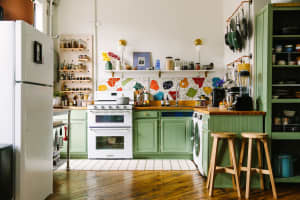 Can't-Miss House Tours Straight to Your Inbox
Keep up with our latest house tours each weekday with our House Tour of the Day newsletter
Name: Carla Culos + Justus Kilian
Location: Little Italy, New York City
Size: 750 Square Feet
Years lived in: 4 years, renting
I've never met a more design savvy, DIY-inspired pair. "We want our home to reflect who we are, but living in NYC means we're constantly balancing constraints: fitting a lot of things in a small space, managing the quirks of a 100-year-old apartment and making sure our design ideas don't go over budget," explains Carla.
"Luckily, our creativity thrives somewhere between constraint and vision—and if there's one thing we aren't constrained by, it's time for apartment projects. When we find a design inspiration we'll often DIY-it, get it secondhand or try to source something similar from local artists. We also like to bring pieces home with us when we travel. While our apartment continues to be a work in progress, we'd be lying to say it weren't a labor of love."
Apartment Therapy Survey:
Our Style: Eclectic, functional and DIY'ed to the max.
Inspiration: For us, design is a combination of pieces we love and problems we're trying to solve.
Favorite Element: Our Fire Escape, or what we lovingly refer to as "the terrasse." It's a great little space and we especially like it for taking in the sights of the city below.
Biggest Challenge: Hanging Chair: We've run into a lot of setbacks with our DIY projects, but the toughest nut to crack was how to hang our hanging chair. We have a tin ceiling, so we couldn't use a stud finder to locate a beam to drill into. We tried to suspend it from existing ceiling hooks, which warped the ceiling, drill a bunch of test holes, which resulted in…a bunch of test holes, and even bring a contractor in to brainstorm ideas. We nearly gave up until we thought to put a wire up one of the test holes and poke around until we found a beam. Success!
What Friends Say: Friends from out of town: "Wow, it's so small."
Friends from NYC: "Wow, it's so big."
Friends we like a lot: "When are you coming over to decorate my place?"
Biggest Embarrassment: Our green faux-marble laminate kitchen countertops. We've considered everything to refresh these in a renter-friendly way (there are great Apartment Therapy articles on the topic), from installing temporary decals to adding complimentary wallpaper to ignoring it (unsuccessfully). Eventually we decided to focus on function over aesthetics. It's not perfect, but we're still brainstorming ideas!
Proudest DIY: Our DIY Murphy Bed! We wanted a comfortable setup for hosting guests in our second bedroom, but didn't want a bed to take up most of the space. That's where the idea for a Murphy Bed came in. Murphy Beds can be expensive, so we opted for a DIY Murphy Bed Kit where they send you the hardware and you get the lumber and put it together. We also got a stencil kit to paint an armoire facade on the front. Despite our apartment being a construction zone for two weeks and me dedicating three hours every night for three weeks to hand paint the stencils, the Murphy bed is now the jewel of our apartment. Not only is it functional and comfortable, it is the most beautiful and beloved piece in our home.
Biggest Indulgence: Our table. Neither Justus or I owned a dining room table, so when we moved in together we decided to splurge on a new piece. I'd come across Modern Cre8tive's gorgeous furniture online, so I reached out to see if they'd build us a table and bench. They sourced a double-live edge sycamore slab for our table and designed a bench to match. We absolutely love it!
Best Advice: From Carla's Mom: "You don't need to do it all at once." Instead of designing in a rush, take time to know what you need and only get pieces you love. Over time we've collected treasures from travels, come up with creative solutions to small-space problems, got items secondhand, and learned a lot about each other by undertaking DIY projects. For us, taking our time has been worth the wait.
Dream Sources: Many of our dream sources are right in our neighborhood or nearby! We'll often stroll around and explore local furniture, lighting and design shops. We also follow tiny home and old-home restoration blogs and, of course, Apartment Therapy!
LIVING ROOM
Jackson Sectional – West Elm (via Craigslist)
Sofa Pillows – Udaipur, India and Istanbul, Turkey
LENDA Curtains, SANNOLIKT Curtain Rods – IKEA
Curtain Pulls – DIY (parts from American Woodcrafters, knobs from Udaipur, India)
Window Planter Holders – Home Depot
Oak Window Sills – DIY (plywood from Metropolitan Lumber, SoHo)
Carved Wood Coffee Table – West Elm Handcrafted (via Craigslist)
Rug – Udaipur, India
Baskets – Yaya Centre, Nairobi, Kenya
Masks – Nairobi, Kenya
Sailor's Mirrors – Anthropologie
Mid Century Night Stand – West Elm
Table Lamp – Housing Works
Hanging Rattan Chair – Serena & Lily
Mesa Plant Hanger – Prism Boutique
9″ Cylinder Ceramic Pot – Planter Resource
Knitted Blood Orange Pouf – CB2
Thanks, Carla and Justus!