5 House Tours That Prove the Victorian Trend Is Anything But Dated
We independently select these products—if you buy from one of our links, we may earn a commission. All prices were accurate at the time of publishing.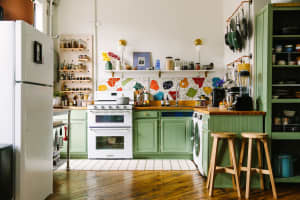 Can't-Miss House Tours Straight to Your Inbox
Keep up with our latest house tours each weekday with our House Tour of the Day newsletter
Victorian design fell out of fashion for a while — okay, maybe a century. Minimalist sensibilities, mid-century lines, and modern silhouettes took center stage especially in the past decade or so, while ornate, heavy, and moody decor found itself relegated to the back shelves of thrift stores.
But all that seems to be changing and, just as some bygone names are finding their way back into the lexicon, so is 19th-century decor. However, this isn't the serious style you recognize from period pieces. Dark? Sometimes. Dreary? Never. These five Victorian house tours show that the new take on the formerly prim-and-proper era blends maximalism with bold color choices, daring patterns, and a dash of gothic.
Leopard Print and Maximalism Are a Collector's Dream
Victorian design is maximalist at its core. It's full of opulent collections filling every corner and items sourced from around the world. And Lois Connors, who lives in a Victorian terraced home in Cheshire, U.K. has discovered her place in the design world thanks to this aesthetic. 
"We didn't realize maximalism was a thing until I started posting on Instagram about my home and now I have found my people!" says Connors. 
Her home shows that you can mix timeless turn-of-the-century details, like ornate gold mirrors and ladylike fringed lamps with excess and vibrant patterns. She dove headfirst into leopard print, with a leopard sofa and statue residing in her living room, but tied it back to the home's Victorian roots. The result is a collected, maximalist look that feels both modern and old, all at once.
A Romantic Apartment Pays Homage to the Turn-of-the-Century
Yvette's apartment in the Netherlands doesn't actually date to the Victorian era, but that doesn't stop her from capturing the beauty of the turn-of-the-century in her home. "I'm totally in love with Victorian architecture, but sadly we don't have those houses in the Netherlands, so I'm trying to create a bit of that style in my home. I love the time period between 1860 to 1930," says Yvette. 
She's lived in the apartment for 26 years now, and the space feels cozy, grounded, and romantic. The depth of the space is created by layers of fabric and paint, rather than by objects, so there's a touch of uncluttered minimalism, despite its Victorian style. Dark rust and black colorblocked walls give the apartment a warm, yet modern and crisp backdrop, which is perfectly offset by the sumptuous velvet fabrics, dark floral wallpaper, and antiques from another lifetime. 
Goth Meets Victorian in the 21st Century
A Victorian home in Manchester, U.K. is home to a former self-described "teenage goth" who's mixed black-on-black with ornate gold accents and gallery walls that look like something out of an impressive antiquities collection. Amber Kaye, a print designer for a textile company, has a natural eye for all things mysterious. She explains, "I am drawn to things dark and moody, but I also love bold colors. I like a good mix of vintage and antique with modern influences here and there."
Her home is maximalist, eclectic, and vintage-inspired, and its murals and art feel like a nod to whimsical British toile or a naturalist's drawings. It shows that you can embrace the dark, heavy atmosphere of the Victorian era, but adding deep jewel tones and eclectic collections creates a result that feels modern and intentional.
Creepy, Sexy, and Global Victorian Vibes in a Historic Home
When Jennifer Robyn Laskey became the steward of a historic Los Angeles home, she knew the purchase came with responsibility. She couldn't just throw any decor in there. It had to fit the home. "I feel really strongly that the design has to be partly based on the architecture and the bones of the house," she says. "In this house, it's easy to see that I channeled the creepy, sexy, vintage vibe with Victorian elements."
But that Victorian aura doesn't have to be totally literal — freshening it up with different decor keeps it feeling modern. She used vintage and historically accurate fixtures, but brought in deep gem tones and Spanish, Moroccan, and Parisian design influences. The result is a home that feels like it's been through a century, around the world, and back again.
History and Creative Energy Converge in a Dark, Moody Home
"What happens when a girl raised in the country just outside Richmond spends most of her formative years reading Edgar Allen Poe? You're looking at it," says Angie Cooper of her Richmond, Virginia, home. It's a place that she describes as "a city with mixed history and unbridled creative energy."
Cooper brought in accents like dark walls, velvet curtains, Spanish tile, and handpicked antiques to accentuate the history of the house rather than try to make it feel new. She believes in connecting people to a time gone by, and in this Victorian home, she's made something that feels ornate, layered, and opulent. It's connected to a sense of place, yet it also feels of-the-moment, thanks to its black walls and mural wallpaper. Maybe the trick to Victorian style in the 21st century is simply embracing the past after all.