A Once-Beige Townhouse Is Now Incredibly Bold, Dramatic, and Colorful
We independently select these products—if you buy from one of our links, we may earn a commission. All prices were accurate at the time of publishing.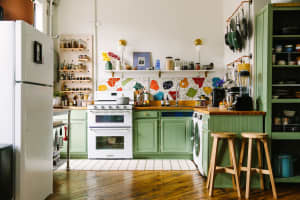 Can't-Miss House Tours Straight to Your Inbox
Keep up with our latest house tours each weekday with our House Tour of the Day newsletter
Name: Melanie Shaver-Durham, my husband Mitch, and my children Joe and Lucy when they are home from college
Location: Mechanicsburg, Pennsylvania
Type of home: Townhouse
Size: 1844 square feet
Years lived in: 10 years, owned
Tell us a little (or a lot) about your home and the people who live there: The story of our home, Melmitchia, is a second chance at love, happily ever after kind of story. I moved into this townhome 10 years ago when I went through a tough divorce. My children were in middle school at the time, and I wanted to buy the nicest three-bedroom house I could afford so that my kids would be comfortable when they were at my house. When we moved in, it was a big empty white and beige box—but I knew it had great potential!
After Mitch and I had been dating for a while and knew that we were both committed to our relationship moving forward, we went to counseling together to learn how we could best introduce him to my kids, and the counselor advised that he start by coming over to do a handy man-type project across several days. That is when I realized how talented Mitch is! This began a long journey of home improvement projects—Mitch says I am the designer and he is the do-er.
We have put a lot of time, energy, and money into our home and we are both really proud of it. Mitch framed, dry walled, wired, and painted the entire basement himself. He redid all three bathrooms and our kitchen. He has done every bit of the tile work, installed our wood floors, laid the patio tiles himself, and on and on. He often says, "You want me to do what???" But then he does it. It really does amaze me every time I think about it.
Describe your home's style in 5 words or less: Bold, artistic, modern, unique, inviting.
What is your favorite room and why? My favorite room in our home is our fireplace room where we now have our Modigliani gallery wall. When my realtor was showing me all sorts of homes to choose from, that room with its two-story ceiling and enormous windows had such a peaceful vibe that it sold me on buying the house! The arrangement of furniture invites conversations over cups of coffee or glasses of wine. Friends and family gather in there while dinner is being cooked, and there is a wonderful view of the kitchen. The Klimt painting over the mantel is my absolute favorite piece of art of all time, I adore my fabulous faux fiddle leaf fig tree, and the bookshelves Mitch built make me smile because I know how hard he worked to make them just the way I wanted them. Finally, when Mitch plays the guitar, the music floats up to the second floor and into our bedroom in such a lovely way.
If you could magically change something about your home, what would it be? Honestly, everything that I have dreamed about wanting to change my husband has changed for me. It is exactly the way that I want it to be. So, I guess a portal to Washington D.C. where my daughter lives would be the only addition that I could wish for!
What's the last thing you bought (or found!) for your home? The most recent thing that I purchased for our home is the female bust statue we have by our bedroom window from CB2. Her name is Judy and she is just fabulous! Mitch doesn't love her as much as I do—he says she is staring at him and he puts a baseball cap over her head at night. Ha!
Any advice for creating a home you love? Plan ahead! I always make a mood board before I design a room because I want everything to fit together well when it is finished. I start with any items that I have decided are a must and build around those. I limit myself to a color palette for any rooms that flow into each other because I always want the spaces to feel cohesive. When I am changing something or adding something in a room, I follow this rule as well. And I believe you can mix high-end pieces with vintage finds, items you find on clearance at Target, and special heirloom pieces as long as you stick with your color palette. Be sure to pay attention to lighting as well—both lamps and ceiling fixtures. I think they are as important as the color scheme for setting the tone of your home. Beyond that, there are no rules, so be sure to include what you love!