Toys that Teach: 10 Sources for FUN Educational Toys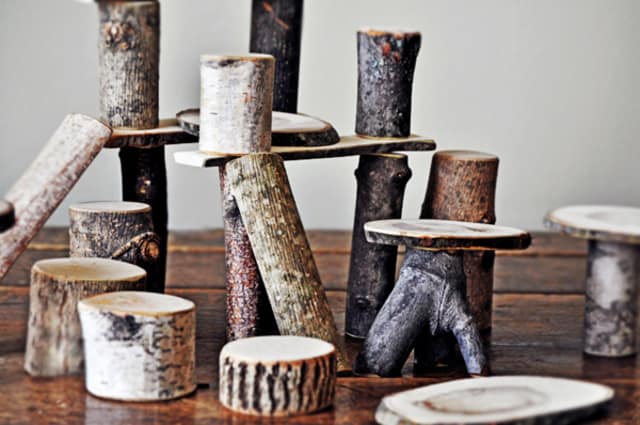 The best toys encourage a child's interests and give them the chance to be imaginative in their play. If you have a creative child or you've got one on your gift list, here are 10 places to look for toys that educate without being boring.
Community Playthings
This online catalog store is a resource for Montessori schools, so they carry a lot of toys meant to foster dramatic and imaginative play. Shop here for well-made play kitchens and craft tables. Shown: Woodcrest Kitchen, starting at $235.
Imagine Childhood
This online-only store sells toys that encourage imaginative play. They're particularly strong on outdoor and nature-inspired toys, like building blocks made from branches. Shown: Natural Branch Block Building Set, $30.
Blueberry Forest Toys
This online store specializes in classic toys made from natural materials. Shop here for handcrafted, high quality European toys, wooden toys, handmade dolls, and playhouses. Shown: Potholder Weaving Kits, starting at $6.
Craftsbury Kids
Their founder and president explains: "Our mission in life is to inspire children's imaginations, and encourage them to be themselves." Their products include a mix of handmade and well-crafted toys. Shown: Aromatherapy Play Clay, $24.
Nova Natural Toys and Crafts
Based out of Vermont, this toy company sells products that "encourage self-expression." Shop here for crafts, outdoor toys, science kits, books, musical instruments, puzzles, and blocks. Shown: Compass and Sundial, $22.
Crayon Rocks
These crayon rocks are "made from USA grown soybeans and colored with natural mineral powders." The shape is great for little hands and is "designed to strengthen the tripod grip muscles." Pricing starts at $7 per set of 16.
American Science & Surplus
This Chicago-based store has a website with a nice selection of science kits and lab supplies for older kids. They're also a good resource for crafts, DIY supplies, and out-of-the-ordinary containers. Shown: Sunprint Kit, $12
Clementine Art
Based out of Boulder, Colorado, they make organic art supplies packaged with recycled materials. Kits include modeling dough, paint, markers, crayons, crayon rocks, and even natural glue. Shown: Natural Gift Set, $40
Brooklyn 5&10.com
This online store has build-it-yourself kits for everything from flying pigs to medieval siege engines. (Most are pretty complex and would be better suited to older children.) This My Ukulele Kit ($40) lets a kid build their own wooden 4-string uke.
Wexner Center for the Arts
This Columbus, Ohio museum store is a surprisingly good resource for classic children's toys. They also have a great selection of unusual and beautiful books. Shown: The Art Book for Children, $20
RELATED RESOURCES
• Crafts and Toys for Creative Kids
• Classic Toys that Kids Won't Hate
• Classic Outdoor Toys: 12 Smart Sources

Photo: Branch Blocks from Imagine Childhood