Tracy's Home Office Split
Today we welcome a new Unplggd contributor, Sayeh Pezeshki of The Office Stylist. Sayeh will be sharing some of her favorite home office finds regularly each month, especially those of high style, but low on space. Her first tour is a Los Angeles home work space:
Name: Tracy Hiner of Black Crow Studios
Location: Los Angeles, CA
Most people dream of having a home office, so the thought of having two brings out all my office envy. Covered in her artwork, Tracy's home work spaces are a place for creativity and inspiration. Come walk with us as we tour her work space and work day.
What was your goal when setting up your home office?
Honestly my goal was to maximize my limited space since I did need some large equipment while also keeping it fun and have interesting things around to help get the creative juices flowing when they stall out
What's your favorite part of your home office?
My favorite part is actually the wallpaper I did, it was my very first prototype and once we hung it and stepped back I knew that I was onto something by starting this company and it reminds me to keep moving forward and trust my instincts.
Can you give us one office design tip that we can use at the home or at the office?
I would say don't be afraid to express yourself, it doesn't have to be perfect, there is no right and wrong. Mix and match and have fun with it. So just try to find things that express yourself and work them into your home or office. I am a huge fan of color, texture, and patterns…if you couldn't tell…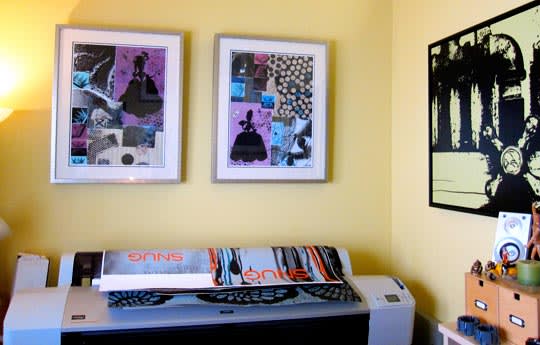 What is your favorite part of your work day?
Drinking coffee and answering emails first thing in the morning while sitting on the couch watching reruns of the old Beverly Hills 90210 is a nice way to start the day. I love when inspiration strikes and I can sit down and work out some new ideas and experiment, but that is not everyday.
If you could be any office supply, what would it be and why?
A black pen preferably a gel tip, not expensive, but with a good ink flow. I have an obsession with black pens and do all of my drawing with a huge collection of different ones. I totally geek out at office supply stores with the big packs of black pens
What's on your desk right now?
A huge to-do list, a sketchbook with ideas drawn out that I need to do and a book with things I need to remember to come back to at some point in a few weeks
Tell us about Black Crow Studios and what it means to you to have an work space that you love.
Black Crow Studios is a custom wallpaper company that pushes the traditional idea of wallpaper into the realm of art. This is for people who want to have something unique in their space that was created with them specifically in mind. We are looking for people who want to make a statement – be it understated or avant garde.
To have a work space I love is so important because it helps me get in the mindset to create great work for my clients!!
Walking through a work space like Tracy's got me thinking a lot about our own space. What updates should we do? Should we be more adventurous? The answer to the last question is definitely a yes. When it comes time to update or style your office, remember to use colors, textures and pieces that inspire you. After all, you spend most of your time at your desk, so you might as well make the best of right?
What do you guys love about Tracy's home office?
Tour by Sayeh Pezeshki of The Office Stylist, a blog dedicated to the idea that we should live well at work.