Trader Joe's New Mini Tote Keychain Holds a Reusable Shopping Bag
We
independently
select these products—if you buy from one of our links, we may earn a commission. All prices were accurate at the time of publishing.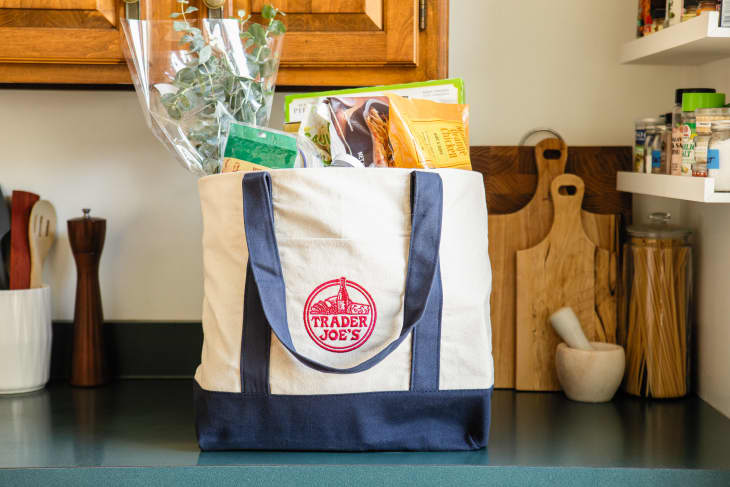 As any true Trader Joe's enthusiast can attest, the beloved chain is so much more than its grocery offerings. You can also find everything from inexpensive plants to skincare to reusable bags there — including the brand's hit $2.99 Micro Tote, which is back in stock after debuting in stores last year.
TikTok content creator Melanie Locke (@melanie_locke) recently highlighted the product's return in a viral video, demonstrating how the teeny Micro Tote unfurls to reveal a full-size red reusable grocery bag within.

"ANNOUNCEMENT: please go get this reusable bag from Trader Joe's [right now] I LOVE MINI THINGS," Melanie wrote.
Instagram user Alex (@traderjoesnew) also called attention to the Mini Tote restock in a recent post, including a photo of the official product description.

"Inner grocery bag folds and is stored inside micro tote bag," the tag reads. "Micro tote bag is compact and easy to keep with you all the time, so you're never without a reusable bag."

And as @traderjoesnew pointed out in their caption: "It's so adorable for collectors or as keychains or ornaments."
Judging from the comments on Alex and Melanie's posts, you can expect the Mini Tote to be a hot Trader Joe's item for the second year in a row.

"This is ADORABLE!!" one commenter wrote. "It's the perfect gift card holder — maybe I could even squeeze in a flower!"

Other social media users chimed in to share what they used the Mini Totes for after removing the reusable bag inside.

"I use the mini bag as my AirPod case!" one TikToker wrote, while another added: "I use mine as a lipgloss holder."