Trader Joe's Peonies Are Back in Stock — 'for a Very, Very Limited Time'
We independently select these products—if you buy from one of our links, we may earn a commission. All prices were accurate at the time of publishing.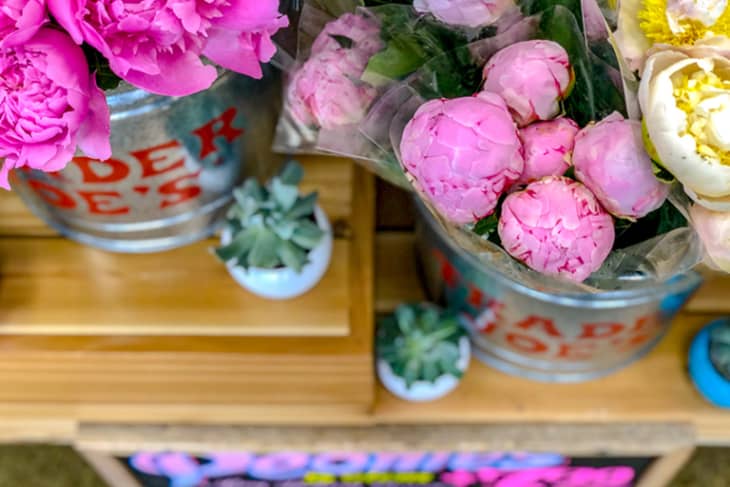 Peonies, like many of our favorite flowers and fruits, have a notoriously short peak growing season, which means we have just a tiny window to enjoy them. The lush, globe-shaped flowers arrived at Trader Joe's this week, so pick up a bouquet while you can!
Follow Topics for more like this
Follow for more stories like this
Trader Joe's announced on its website that its peonies were officially back in stock on Friday, May 29 "for a very, very limited time." A five-stem bunch costs $7.99, though the price varies depending on location.
If you're lucky, you may spot several varieties of peonies at your local Trader Joe's. The chain carries single, semi-double, double, and Japanese (a.k.a. anemone-form) varieties, which have subtle differences in shape and density of petals.
All of these beautiful varieties begin as tight ball-shaped buds covered by tough outer guard petals. As they bloom, the guard petals come down to reveal the delicate, softer petals within.
To enjoy your peonies for as long as possible, Trader Joe's suggests cutting the stems at a 45-degree angle and placing them in clean water as soon as you get home. Keep them in a cool spot, away from direct sunlight, and replace their water and re-cut their stems every other day.
While you're at Trader Joe's, you can also pick up one of its Peony Blossom scented candles, which have almost as short a season in stores as their namesake flowers. Unlike the flowers, though, they'll keep for months so you can enjoy them year-round.