Trader Joe's Is Officially Fixing Your Number One Gripe About It—Here's How
We independently select these products—if you buy from one of our links, we may earn a commission. All prices were accurate at the time of publishing.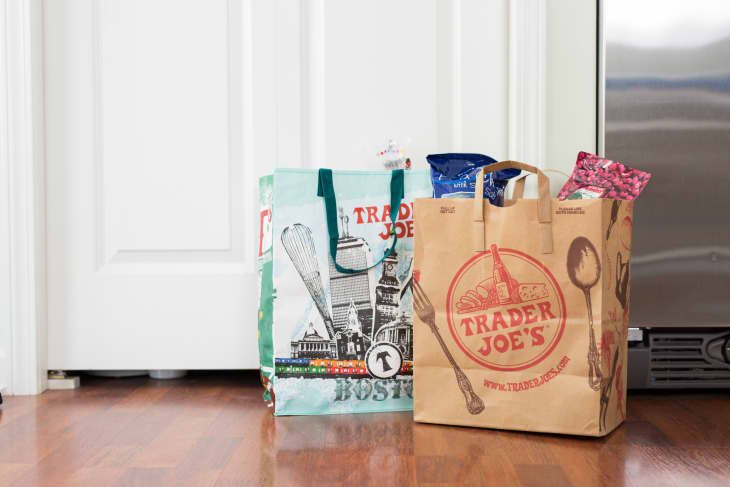 One of your favorite grocery store chains recently made a huge commitment to a more environmentally conscious way of doing business. Sure, they're a great spot to shop for last-minute gifts or reasonably priced fiddle leaf figs, Trader Joe's is also actively expanding its sustainability efforts by focusing on its packaging. 
Follow Topics for more like this
Follow for more stories like this
According to an official announcement on the company website, Trader Joe's has made great strides towards eliminating plastic from its stores, a goal it implemented as a part of a packaging improvement initiative released in December 2018. 
"We are excited to share that since announcing our plan to eliminate more than 1 million pounds of plastic from our stores in 2019, we have made substantial progress in our efforts," the announcement reads.  "Currently, we have identified and are in the process of implementing packaging changes that will remove a total of nearly 4 million pounds of plastic, annually."  
Citing specific customer concerns about English cucumbers as well as other plastic-wrapped products, the grocery chain says it's still working diligently to come up with viable solutions that are both sustainable yet able to prevent an increase in food waste. While the scope of that task is tremendous, Trader Joe's has made substantial headway.
To date, the store has found a highly recyclable alternative for its fresh meat products, which eliminates the need for styrofoam trays. Set to make their way into stores this month are greeting card sleeves made of renewable, compostable material instead of the previously used plastic coverings. And in September, Trader Joe's will use bags made of compostable materials for flowers, doing away with the plastic bags.  And in November, the store anticipates replacing plastic and foil tea package pouches with compostable film "where necessary."
Fortunately, Trader Joe's isn't the only major supermarket chain prioritizing the environment's well-being.  Aldi, Albertson's, Kroger and Sprouts have all taken major steps on their respective journeys to make sustainability practices standard, and hopefully that list continues to lengthen.