Trading Spaces: Where Are They Now?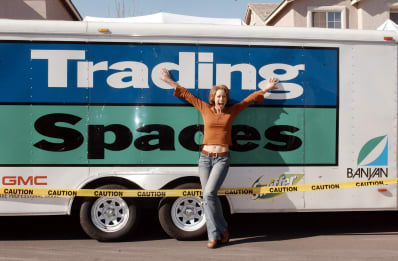 (Image credit: Bob Riha Jr/Getty Images)
Remember Genevieve Gorder? Meet her again!
There aren't many around these parts that weren't big fans of the show Trading Spaces. It was one of the first shows that made design and home improvement feel do-able on the average household budget. They took designer ideas and tricks of the trade and broke them down into ideas that almost anyone could implement in their own space.
Sure, there were outlandish theme rooms once in awhile, but for the most part, the show was as inspiring as it was ridiculous to watch. Times have changed and in a sea of home design and decor shows, Trading Spaces got lost and eventually came to an end. We were sad to see them go, but we've been curious what those old favorite designers of ours have been up to. Check below to find out!
• Doug Wilson:
The small town farm boy turned big city designer didn't worry much about what the homeowner's reactions might be and his plans seemed to get more outlandish as the series progressed. Although he stayed on through most of the Trading Spaces series, Doug went on to host other shows for TLC and has continued his own
design business
. He has also become involved in theater productions and has renovated and saved a small bar and restaurant in Sullivan, Ill. — Jibby's.
• Frank Bielec: There was never any disguising Frank's love for all things country or crafty. He was the one all the Moms wanted in their home and the Dads were scared of. When he finished, there may or may not have been a chicken painted on your wall. His sense of design has parlayed into his own online crafting business with his wife. He's now a grandfather and sells patterns for all sorts of crafts to his consumer base. You can find him over at Mosey n' Me along with all sorts of patterns for needle felting, punching and more.
• Edward Walker: Many weren't quite sure what to make of Edward, the pony-tailed designer who seemed to come from nowhere one season. He used to be the fabric coordinator for Trading Spaces and ended up making a name for himself in front of the camera as well as behind it. He's since gone on to do all sorts of things with fabric from bedding collections to clothing and wedding gowns. He also works on a children's book series and calls North Carolina home — and yes, it looks like he might still have "the" hair. You can find more about his endeavors from his sassy website.
• Vern Yip: If there was one designer you wanted in your room, it was Vern Yip. His designs were classic, his work impeccable and watching him work was always a pleasure. Since his days on Trading Spaces he's gone on to do other shows within the TLC Network, including his own show, Deserving Design. You've also seen him as a judge on Design Star and he still makes time to run his own design business out of Atlanta along with his donation of time, talent and money to many charities and events.
• Genevieve Gorder: She always seemed to do best when barefoot and did amazing things in a pencil skirt Genevieve lives in Manhattan and lends a hand as a judge on Design Star. She also has her own HGTV series, Dear Genevieve. She's still doing wonderful things in the world of design and is also into the world of textiles with her own line of bedding for QVC. Although her website bio says she's married, her blog says otherwise, so don't worry bachelors, she could still be single!
• Laurie Hickson-Smith: Laurie taught us all how to create a symmetrical rooms that balanced neutrals with small bursts of color. They were spaces that were as full of florals and prints as they possibly could be and her rooms felt the most "magazine" in nature when all was said and done. She was the southern belle that has since gone into the world of publishing. She lives in Jackson, Mississippi with family as she's a proud mother of two.
• Faber Dewar: Faber was born in Scotland and raised in England and was as easy on the eyes as he was an excellent carpenter. Married and now a father, Faber continues his own line of furniture production and eco-friendly construction, renovation and woodworking. Of all the carpenters that lent a hand on Trading Spaces, we always wished he would have acquired his own show! More Faber-licious details on Faber can be found at his website.
• Amy Wynn Pastor: Holding down the female stake in the show's world of carpentry, Amy Wynn Pastor was well loved by many. She got her start in theater design and has since parlayed that experience into home decor, construction and more. She went on from Trading Spaces to work with the DIY Network on many shows, including the latest, Make A Move and Backyard Stadiums.
• Ty Pennington: Although there aren't many who don't know what Ty is up to these days, he still heads up ABC's Extreme Makeover: Home Edition and has a rather successful line of housewares and home decor through Sears. Even if he still has the same haircut, he is still doing good and helping others — even if he's yelling through a microphone to do it. Side note: he easily has the best website out of all the Trading Spaces alumni!
• Paige Davis: Trading Spaces never would have been as memorable if it weren't for the bright, big smile of Paige Davis. Since the shows conclusion, Paige has been able to focus on what she loves most outside of being one of the most memorable TV hosts ever — theater. She's been in countless productions since and there's no sign of stopping in her future. More details on her (kinda scary) website.
Was Your Trading Spaces Personality Not Listed Above?
If you're looking for the full cast and crew that graced your tv for so many years, make sure to hop over to Wikipedia, which is hands down the best resource for tracking down your favorite personalities. Some folks were only on the show for a few episodes and others have gone on to be big names in the world of design. Check out more here.
Apartment Therapy supports our readers with carefully chosen product recommendations to improve life at home. You support us through our independently chosen links, many of which earn us a commission.