Transparent Is Back For Its 4th Season This Week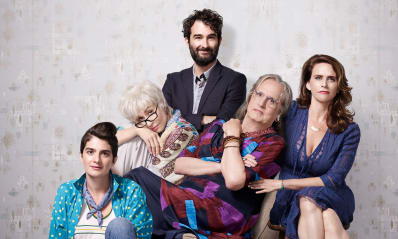 (Image credit: Amazon)
While last year's third season of Transparent could be considered a building year (they were nominated for Emmys only in acting categories this year, and none of them took home a statue last night), it set up plenty for the dysfunctional and somewhat self-destructive Pfefferman family to knock right down. And season four drops on Amazon this week, on September 22.
Considering where we left them (on an emotional cruise complete with a pretty great performance of Judith Light's character's one-woman show), I can't wait to see what's next for the family of five.
Jeffrey Tambor continues to shine in his Emmy-winning performance of Maura, a woman in transition, and her ex-wife (Light) and three adult children (Jay Duplass, Gaby Hoffmann, and Amy Landecker).
Season four's trailer has the family taking the show on the road and heading to Israel to explore their spiritual and historical roots. There are some new faces and guest stars in store, including one with a previous tie to Tambor – Arrested Development fans will appreciate a turn this season by Alia Shawkat, who played Tambor's granddaughter on the FOX sitcom.
Transparent is a long-running Amazon original, and one I've loved from day one. Soon-to-be former showrunner Jill Soloway has taken the premise of a transitioning parent of three of used the show to explore gender identity, spirituality, inheriting trauma, and a ton of other fascinating areas for three seasons so far. The Pfeffermans are privileged for sure, but the show calls them out on this and often doesn't even struggle to make them seem likable – Maura included. Each character is deeply flawed, but I love watching to see what they'll all do next. I'm pumped to see what the show takes on in season four.
Are you a Transparent fan? Tell us in the comments...