5 Common Travel Habits I Never Do as a Former Flight Attendant
We
independently
select these products—if you buy from one of our links, we may earn a commission. All prices were accurate at the time of publishing.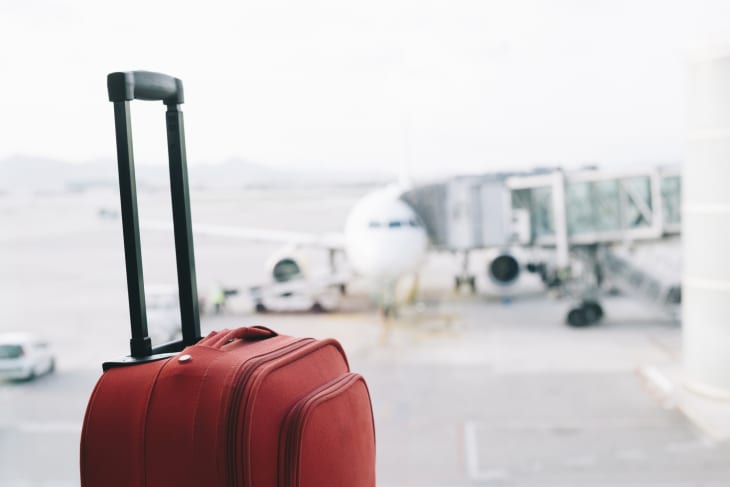 I worked as a full-time domestic flight attendant for eight years, during which time I was stuck on runways for many hours. Because I had to be ready to take off to any destination at a moment's notice, it was important to be organized and prepared for anything. 
Although I'm no longer a flight attendant, I still keep some habits from my time in the air and on the ground. These are the travel-related things I don't do to keep me as efficient as possible when I'm frequently on the go.
I never put anything in the overhead bin.
As a flight attendant, I realized how much of the stress of air travel is related to the overhead bins. People have gotten into physical fights over bin space during boarding! That's why I recommend keeping your carry-on small enough to fit under the seat in front of you, checking your larger bags, and saving yourself the worry of bin space. That way you won't be disappointed when there isn't any space left and avoid any injury that may occur when putting your luggage up there by yourself.
I never bring a neck pillow (or an eye mask).
Another in-flight tip I completely ignore is to use a neck pillow or even an eye mask. Personally, I don't find them helpful enough to justify their combined bulk. My carry-on space is precious, and a big ol' neck cushion bobbing around on my luggage strap is going to get food spilled on it or get rubbed on the floor when I set my bag down. No, thank you! 
I never use packing cubes. 
Using packing cubes is like folding your underwear and socks to line them up neatly in your drawer. But for me, it just takes up extra space and adds time to the packing process. In luggage, as in life, I am a proponent of having less stuff. 
I never unpack my belongings.
Likewise, I'm a big fan of doing less work! I never unpack my belongings into any drawers or cabinets while staying at another location. Even if I'm there for a week, the only clothes I remove from my suitcase are things that need to be hung. Instead, my suitcase acts as a drawer set up on a luggage rack in the corner somewhere in my room. I throw my dirty clothes into a bag under the rack and plop them into the suitcase when I'm ready to leave. 
I never pack extra workout shoes.
Not bringing extra workout shoes is another way I save space and streamline my packing process. Unless I'm on a specific tennis vacation and will be playing multiple times for sure, I use regular walking shoes for any exercise. The truth is, other than copious amounts of walking, I'm probably not going to exercise much on a trip. I try not to bring other aspirational shoes like sky-high heels, either. Having stylish walking shoes makes packing a lot more simple. 
Being in the air for so many hours over those eight years was physically taxing and often stressful with flight plans changing so often. I used these little time- and space-savers to make my work life a little easier, and they continue to help me now as a passenger.