You Might Seriously Regret These Trendy Flooring Styles When It's Time to Sell Your Home
We independently select these products—if you buy from one of our links, we may earn a commission. All prices were accurate at the time of publishing.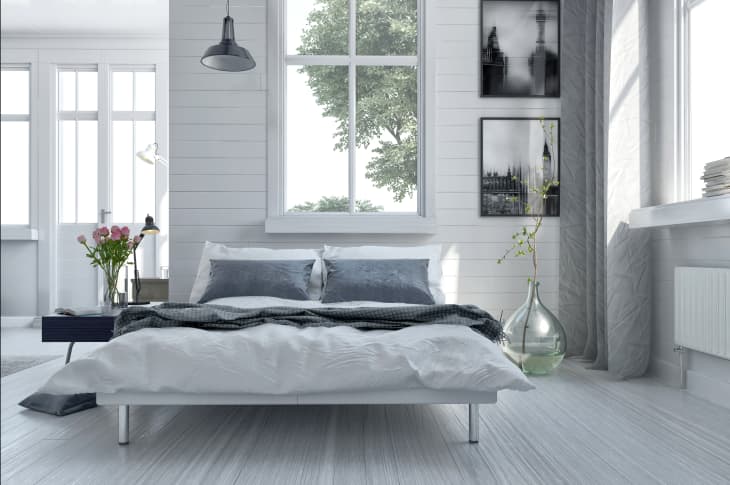 Pinterest mood boards, HGTV shows, and your favorite influencers' Instagram posts are huge sources of inspiration when it comes to trying new home design trends. But experts say if you're thinking about selling your place at some point, don't make any decisions on your home flooring just yet. 
Your home is your personal retreat and a reflection of who you are, but it's also an investment. When it comes time to move on to the next chapter, those visual reflections may have an adverse affect on your listing price. And if your home is stuck in 2021 when it's 2031, bringing in buyers might be a challenge. 
Follow Topics for more like this
Follow for more stories like this
From a practical standpoint, "flooring can be difficult and costly to replace," says Alix Gianetti, a Boston realtor with Compass. "It has to be durable for the long-term."
Gianetti advises to never skimp on flooring materials and if you can, opt for hardwood, which has proven to be timeless and can be easily revamped if scratched. "You can sand it down and refinish it to match, but with vinyl or bamboo flooring, it's impossible to refinish."
Carpeting, on the other hand, has been "fading out of existence over the last 10 to 15 years," Gianetti says. This is most likely due to practical reasons (it's hard to get out stains and scents) and simply because the style is outdated (hello, 1970s) "You're better off with hard surface flooring and using accent rugs to spruce it up," she says. 
If you're thinking beyond logistics and more about design aesthetics, Julie Chrissis, founder of Chrissis and Company Interiors, predicts certain flooring styles that seem hot at the moment, will just end up looking outdated in the near future. 
"Gray-toned hardwood floors are really 'in' right now, but they're only going to last as long as gray lasts," she says. Gray as the go-to neutral color is having its moment, just as beige once did, and sooner or later, gray will meet the same fate as its popularity dies down.  
Another big trend is "the whole modern farmhouse look, with the bold tile patterns, typically found in a bathroom," says Chrissis. 
Then there's the herringbone brick flooring that many homeowners have been outfitting their mudrooms with. "That's having its moment and then the moment will be gone," Chrissis says. And when it is out, a successful sale might prove tougher.
Another popular style that may already be on its way out, according to Ali Joyce, a Jack Conway realtor from Boston, is tile that resembles wood. It's actually a type of porcelain that imitates wood and is often used in bathrooms. "It's not as hot as it first was," she says. 
From a business perspective, it makes sense to invest in classic and timeless flooring styles and to not get caught up in the trends of the moment, but it's ultimately about how long you plan on staying in that home and what makes you happy to live in it. 
"If you're obsessed with that funky tile and want to decorate your bathroom that way, then go for it." Chrissis says.