Skip the Store: The Best Bulk Candy Buys on Amazon Prime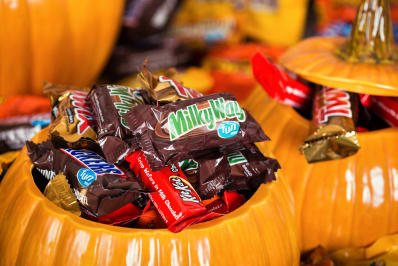 (Image credit: Photo: leekris/Getty Images)
Those fools at the store, fighting each other over the last sad bag of candy miniatures? They're living in the past. You, my friend, are living in the future. Where you can have anything — truly anything — delivered to your door in two days. And the truth is, the bulk candy selection on Amazon is miles better than what you'll find on your drugstore's picked-over shelves right now.
A note: Amazon's prices change frequently, so you might find some prices below are different when you click through. No worries—just check CamelCamelCamel to make sure you're getting the best deal.
If you want to be the most popular house on the block:
Hershey's Candy Bar Variety Pack, $18.89 for 30 or Mars Chocolate Variety Pack, $11.33 for 18
When winning is everything. I combed the results for "bulk full size candy bars" on Amazon, and the best bang for your buck is a tie. Both the Mars and Hershey's full-size candy packs come out to 63¢ a piece.
For chocolate lovers:
Mars Chocolate Minis Variety Mix, $24.81 for a 4-lb bag (240 pieces)
A good mix of classics from Mars: Milky Way, 3 Musketeers, Snickers and Twix, in a bulk size that makes sure you'll get your fair share, too.
If you get a ton of trick or treaters:
Huge Party Mix of Assorted Classic Candy, $33.49 for a 6.25-lb box
This here is over six pounds of name-brand candy goodness, including Nerds, Skittles, Swedish Fish and Haribo gummies. At 33¢ an ounce, it might as well be a crime.
If you like to keep things a little unexpected:
Assorted Rock Candy Sticks, $19.97 for 36
These individually-wrapped sticks of rock candy are sure to stand out when your lucky trick-or-treaters upend their bags at nights' end. If you want to stick to a color scheme (or just have your own favorite flavor) you can grab a non-assorted batch, or bulk boxes up to 144 pieces.
If you have a flair for the nostalgic:
Vanilla Caramel Candy Squares, $19.99 for a 5-lb bag
A presidential flash card of Andrew Jackson will buy you this bulk bag of old-fashioned caramel candies. Enough to hand out to trick-or-treaters and still have some left over for coating caramel apples well into Thanksgiving.
If you're a dentist:
Trident Sugar-Free Gum, $10 for 12 18-stick packages
Maybe you've been holding out on stocking up because you hate the idea of giving kids sugary treats that will rot their teeth. In that case, this pack of no kid's favorite spearmint gum should do it.
If you're hoping for a lot of leftovers:
Cookies Chips & Candies Snacks Variety Pack, $36.99 for 69 pieces
If you know you'll be left with a bowlful at the end of the night, you can't do much better than this snack sampler, full of all kinds of goodies ripe for bring-from-home lunches and holiday road trip snacking.
Apartment Therapy supports our readers with carefully chosen product recommendations to improve life at home. You support us through our independently chosen links, many of which earn us a commission.