True Crime Fans, Netflix's New Mockumentary Will Crack You Up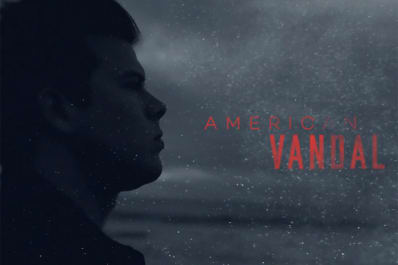 (Image credit: Netflix)
An unexpected sleeper hit in the form of a true crime parody came out on Netflix earlier this month, poking fun at huge hits like The Jinx, The Staircase, and even the streaming giant's own Making A Murderer. American Vandal is a mere eight episodes long and centers around a group of high school students, teachers, and administrators.
Unlike the documentaries it plays off of, the seriously-not-serious crime in question throughout American Vandal hardly matters. All you need to know is that it involves vandalism in a high school parking lot, the spray painting of 27 cars, and a ton of juvenile humor told somehow with hilarious deadpan delivery. But the more important and strangely engrossing part of this show is learning where each suspect was at the time of the crime and, with 27 car owners to choose from, who the intended target was. It's a wild story of crime and motivation told through a winding five hours of interview footage, analyzed text conversations, and social media posts peppered with red herrings.
The series comes off as a surprisingly genuine look at teen life and culture. Admittedly, I am a 31-year-old lady who primarily uses Snapchat to send my friend pictures of my two cats. Still, based on the much more serious real-life cases like the murders of two teen girls in Indiana and, even more recently, the tragic case of Kenneka Jenkins, it's not out of the realm of possibility that Facebook Live footage could be used to crack a case, or at least exonerate a possible suspect.
The main documentary filmmaker and the show's narrator sounds like he should be hosting NPR's S-Town, and the main kid who stands accused sure reminds me of a guy I graduated with. You'll find your standard high school stereotypes, but also a surprising amount of heart. It makes for a mystery you connect with, despite the fact that it's satire. It's also super funny, if you can get past the literal toilet humor. At some point someone makes a great joke about how no one understands the movie Inception, and even though Rick & Morty made the same joke first, somehow American Vandal manages to do it better.
Watch the trailer and then check out all eight episodes on Netflix.