Truly Tiny: 4 Apartments Under 100 Square Feet
We independently select these products—if you buy from one of our links, we may earn a commission. All prices were accurate at the time of publishing.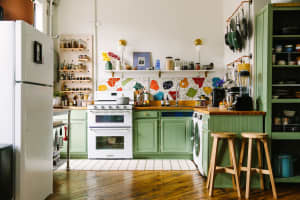 Can't-Miss House Tours Straight to Your Inbox
Keep up with our latest house tours each weekday with our House Tour of the Day newsletter
Think your apartment is small? It may seem positively palatial compared to these five living spaces, all of which are smaller than 100 square feet. Read on to find out how the residents make these shoebox-sized spaces work.
First up: a tour of a 90 square foot 'microstudio' in Manhattan. Felice Cohen, a professional organizer, managed to squeeze a workspace, a tiny kitchen (consisting of a mini fridge and a toaster oven), and a little area for relaxing and reading into this diminutive space. The bathroom is "pretty big… you just gotta be careful you don't hit your knee when you're sitting on the toilet." There's even room to do yoga (yes, really) and entertain: "I have a friend with a larger apartment two blocks away, and we end up hanging out here cause it's cozier."
This 86 square foot apartment in Paris is a converted former maid's room. French architects Kitoko Studio made it super-functional with a wall of cabinets that slide open to reveal a closet, a table for two, a bathroom, a single bed, and a ladder to access said bed. Beneath the window there is a tiny kitchenette. The entire thing, says the architect, was inspired by a Swiss army knife. You can see more photos, and a video of how everything works, at Arch Daily.
This tiny apartment in London, a converted former broom closet, measures 11 by 5.5 feet. It features a tiny kitchen, a sofa that turns into a bed, and "a shower which doubles up as a wardrobe". Not sure how that works.
According to former owner Ray Barker, the apartment is so small that "I can wash up, answer the door, make a cuppa and go to the loo all at the same time." Perfect for lazy people. Lazy rich people — the apartment was valued at £200,000 (approx. $313,000) in 2010.
Small cool 2011 entrant Luke lives in an apartment that's a mere 78 square feet — and he works from home. His place (pictured at the top of the post) doesn't feel cramped thanks to some clever solutions — a couch (with storage under the cushions) that folds into a full bed, and a built-in desk and wardrobe.
There's no kitchen (unless you count his mini-fridge and microwave) and he shares a bathroom with three other apartments, but to Luke it's worth it to live in Manhattan, close to all the places he wants to be, for only $800 a month. "In between this place and my last place, I was living in Kenya, in a place that was like, half the size of this, made of mud, so, for me, this is a big step up. I guess it's all relative."
Re-edited from a post originally published 11.25.14-NT