Try This: A Little Color on the Ceiling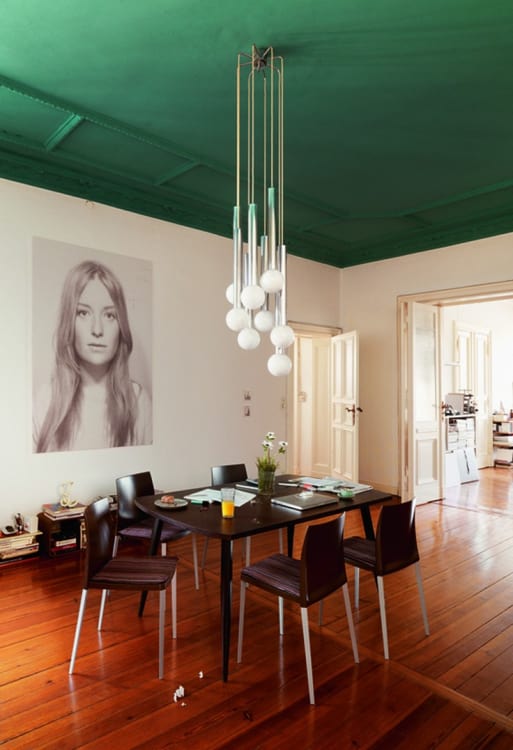 In last week's post about adding color in your kitchen, I suggested adding color to a part of the kitchen that usually doesn't get too much attention — the ceiling. Love the idea? Here are some examples of other rooms with painted ceilings, to get your creative juices flowing.
Above: Pantone's color of the year looks great the tall, detailed ceiling in this beautiful old space. Image by Florian Braun for Freistil Rolf Benz.
If you abide by the maxim 'more is more,' this pink-ceilinged room will thrill your soul. Because a room this interesting couldn't possibly have a white ceiling, right? Home of musician Shawn Colvin, photographd by Ryann Ford for Austin Monthly Home, via Helen Thompson.
But just because you're a minimalist doesn't mean this look can't work for you. Here, a red ceiling enlivens a simple room, photographed by Magnus Anesund for Elle Interior.
What about in a more traditional space? That can work too. I love the sweetly muted pastels in this living room from Veranda.
Or go one further and paint the ceiling and an adjoining wall. Hus & Hem via Plenty of Colour.
The above is an example of a great trick for cozifying a space that feels a bit too grand. Painting the ceiling, and the portion of the adjoining walls just below the ceiling, visually lowers the height of a space. This is especially true if you choose to paint the ceiling a darker color. The room pictured above, from Chris & Roger's DIY + Modern Farmhouse, isn't particularly tall, but since it's a bedroom the more intimate feeling is a perfect fit.
(Images: as linked above)