Turn Any Room Into a Scary Movie With These Insta-Worthy Halloween Decor Hacks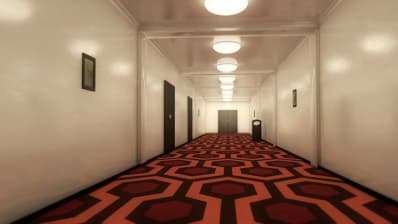 (Image credit: Warner Bros)
Halloween is coming, and you want to turn your place into a sweet, scary mansion. There's only one problem: you live in 400 square feet. Or you're lazy. Or you're broke. Maybe all three. Never fear. You can still inspire spooky with a single room. Below, five cinematic inspirations for turning a partitioned space into a backdrop that'll make Instagram lose its mind.
The Others
Nicole Kidman's children can't see the sun for reasons that are slowly revealed throughout this psychological, supernatural slow burn. Recreate the dreamlike, gothic mood in your living room: hang heavy floral curtains (make sure they're drawn, always drawn), turn off the light, and turn on a vintage lamp with a low, warm glow. Flip some furniture and drape it with cobwebs or white sheets. If you want to push it from cozy to creepy, find a life-size doll, give it a veil, and use the Inkwell filter to recreate any number of eerie vintage scenes.
(Image credit: Warner Bros)
The Shining
If you have a hallway, you can recreate The Shining's classic elevator scene. If you don't know what I'm referencing, stop thinking about decor for one second and go watch not just a great horror movie, but a beautiful film in its own right. Then, buy the exact carpet runner, get your friend's toddler to pedal back and forth on a blue trike, and bribe your downstairs neighbors to be cool with the noise. Alternately, get some floral wallpaper and recreate the version with the twins.
(Image credit: Tokei via Ranker)
School Mystery (Toire no Hanako-san)
Ditch that played out Psycho shower curtain and get with a Japanese urban legend about a young girl that haunts school bathrooms. Scrub your lavatory antiseptic-clean, make the door look like a public stall, and pay your artist friend to make a good custom mirror cling. Stories about Hanako vary, and your bathroom layout may as well: if your mirror is tiny, utilize the ceiling, sink, or even, yes, the toilet.
Poltergeist
Carol Anne and the TV is an iconic image, both instantly recognizable and flexible enough to work with your flat screen — or an excuse to track down an older model. Follow this tutorial, queue up some low static, and set up a glowing blue light for a cool one-shot (punish early guests by darkening the room and jumping out) that can hang throughout the night.
Beetlejuice
Tricking out your bedroom like Lydia Deetz is next level, and if you have a one-room situation, pretty much counts as decorating the whole house. If you're not up for painting your walls purple, try a colored bloom bulb. A monster succulent, big red skull, and black floor lamp later, and you're ready to languish in style.
Apartment Therapy supports our readers with carefully chosen product recommendations to improve life at home. You support us through our independently chosen links, many of which earn us a commission.