8 Shows to Watch Before the New Year to Renew Your Home Mojo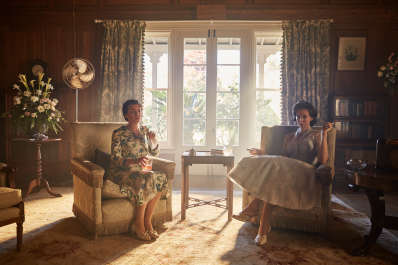 (Image credit: Robert Viglasky/Netflix)
Is your Netflix queue in a slump that rivals that of your decor creativity? If you love killing two birds with one stone, here are seven streaming TV shows with gorgeous interiors that will fill up your binge list with inspiring decor content so you can get to "researching". From mid-century modern to contemporary beach house, these TV sets span the style spectrum and give you plenty of material to draw from the next time you get the itch to redecorate.
1. The Marvelous Mrs. Maisel
Beloved Gilmore Girls creator Amy Sherman-Palladino marries her signature snappy dialogue with dreamy cinematic quality sets and costumes in Amazon's original series The Marvelous Mrs. Maisel. Our heroine Midge Maisel's pristine pink pyrex-lined kitchen and chintz/mod mashup living room let viewers know she oozes style everywhere she goes. About the series, Sherman-Paladino states, "The story I really wanted to do was a story of a woman in the '50s who didn't hate her life." Appropriately so, the show's vibrant and quirky interiors perfectly represent a woman with a lust for life.
How to achieve this look: Don't hold back. Use plenty of color and don't be afraid to mix contrasting styles (think soft florals with modern, punchy abstract art like the floral pillows and mod shag rug found in Mrs. Maisel's living room). Deciding on a subdued color palette of 2-5 colors with a pop of a brighter, bolder hue is a great place to start.
2. Bates Motel
If there's one thing about Bates Motel it's okay to be turned on by, it's the set design. The alluring interior of Norma and Norman Bates's gothic Victorian mansion is dark, foreboding, and laced with elements of Old World romance. The home is frozen in time with a melange of furniture and accessories dating from the time of the home's construction in 1910 through the '60s, landing heavily on Art Deco. Basically, the home is full of gorgeous antiques, warm lighting, and an ambience that would be totally inviting if it weren't for the fact that incestuous murderers lived there.
How to achieve this look: Victorian settees and quality Art Deco antiques are essential for this one. Juxtapose heavy-weight upholstery in dark, rich colors with delicate lace and velvet accents, all the while mixing and matching floral patterns. When it doubt, cover it with a piano shawl or a large-scale Persian rug. Lastly, top it off with ambient lighting via a variety of lamps and sconces for a glow so warm and cozy it rivals that of your mother's womb.
3. Grace and Frankie
In Netflix's Grace and Frankie, two recent divorcées with completely different lifestyles are forced to cohabitate in their golden years, sharing an ambiguously Southern Californian beach house, which is so well-decorated it almost steals the show from the star-studded cast. While the Nancy Myers-esque beach house interior may be the first set that comes to mind, it's Frankie's paint-splattered, dusty art studio that's really worth mentioning. From the various form drawings and unglazed pottery strewn about, to the dated matching oak tables and leather sofa, set designer Beauchamp Fontaine left no stone unturned as to the history of the space.
How to achieve this look: Explore your inner artist. Experiment with various paints, colors, and textures and then don't be afraid to proudly display your creations in a multitude of ways: propping, pinning, framing, and, most of all, layering. This devil-may-care, bohemian sensibility is defined by self-exploration and not caring what others think, so let your work and inspirational artifacts pile up and speak for themselves. It's like the healthy approach to hoarding.
4. I Love Dick
While the feminist mantra of Amazon Original I Love Dick may not totally satisfy the ravenous appetites of the binge-watching culture, its set design will have everyone's credit cards binging on longhorn cow skulls and cowhide rugs. The racy show from Transparent director Chris Kraus centers around the quirky Marfa, Texas, art community, which makes for interesting and very intentional interior set design. The general aesthetic is something akin to dropping a concrete Brutalist facade in the center of a dusty spaghetti western street.
How to achieve this look: Think modern modular design with natural elements. Imitating the Southwestern landscape of Marfa, Texas, this look feels barren with beige-centric color schemes, plenty of open negative space, and occasional pops of sunset and cactus flower colors.
5. The Good Place
Every inch of this show is crammed with personality. With a cast of characters that are unapologetically idiosyncratic, the town's set design matches that of its inhabitants quirk-for-quirk. In a nutshell, The Good Place is an after life "neighborhood" that is custom built for the people who reside there, meaning each home is distinctly designed for each character. For example, the statuesque philanthropist Tahani Al-Jamil lives in a castle filled with cloisonné, antique settees, and fresh flowers, while the supposedly humble and dorky Eleanor Shellstrop lives in a modest studio lined with hobo clown paintings and covered in colorful geometry.
How to achieve this look: While most humans IRL are well-rounded with many interests, The Good Place sets are all about sticking to a theme. If you want your home to feel as whimsical and fun as this show, pick a theme for your space and don't stray from it. For example, if Tahani reps your style, high-society England is a great theme for you (unless you aren't rich, in which case you might want to pick another theme).
6. The Get Down
Netflix's most expensive series to date (costing at least $120 million to produce, likely a reason for its too-soon cancellation), Baz Luhrman's The Get Down follows the rise of hip-hop and disco in the South Bronx in the late '70s. Stylistically, this series is a soulful take on an amalgamation of popular trends at the time, from sleek mid-century modern to glammy disco, all with a hint of Luhrman's signature colorful style made popular by blockbuster's like Moulin Rouge and Romeo and Juliet.
How to achieve this look: You're hard-pressed to find a natural (white/beige/brown) color on a Baz Luhrmann set. Chose a color palette and paint or wallpaper everything. Also, this show is set in the '70s, so wicker, plush velvet, and a few mid-century modern lines are a must.
7. The Crown
It's no wonder a show about the Queen of England has drool-worthy interiors. While the The Crown's large-scale grand rooms and abundance of rare antiquities are jaw-dropping to say the least, it's the non-palatial sets that have us geeking out. In the first season we witness royal life abroad in 1950s Rhodesia with a home that our Ernest-Hemingway-on-Safari dreams are made of, and peek in on Winston Churchill's cozy private quarters, modestly decorated with leather-bound, crystal-decanted everything. These interiors are special in that they seem to be mostly comprised of pre-Victorian-era art and furnishings, making the occasional 1940s electric fan seem like a materialized gadget from the future.
How to achieve this look: Renaissance tapestries, gilded frames, ornate carvings, and acrylic portraits and landscapes with the occasional 1930s-40s electric innovation thrown in the mix. Basically, if it's old and really expensive, buy it and put it in your house.
8. Dear White People
On the other end of the spectrum, a more accessible approach to design would be the eclectic dorm room aesthetic of Samantha White from Dear White People. Candles and a surprising amount of lamps create moody lighting and a chill atmosphere that balances out layers-upon-layers of color, texture, and pattern. We would expect nothing less from this free-sprited, feisty, and painfully stylish intellectual.
How to achieve this look: The foundation of this bohemian collegiate vibe is layers. Nonchalantly layer textiles and rugs in a variety of colors and patterns throughout your entire space and create little vignettes in empty corners that include a mix of framed and unframed art. Finish it off with tons of pillar candles and small lamps with warm diffused light to add an inviting ambience that will entice your study partner to want to hit the books all night long.
No matter what your home's current state is in, ogling these beauties is sure to get your design juices flowing! Happy binging!