3 Shows to Watch After You've Caught Up on 'Riverdale'
We
independently
select these products—if you buy from one of our links, we may earn a commission. All prices were accurate at the time of publishing.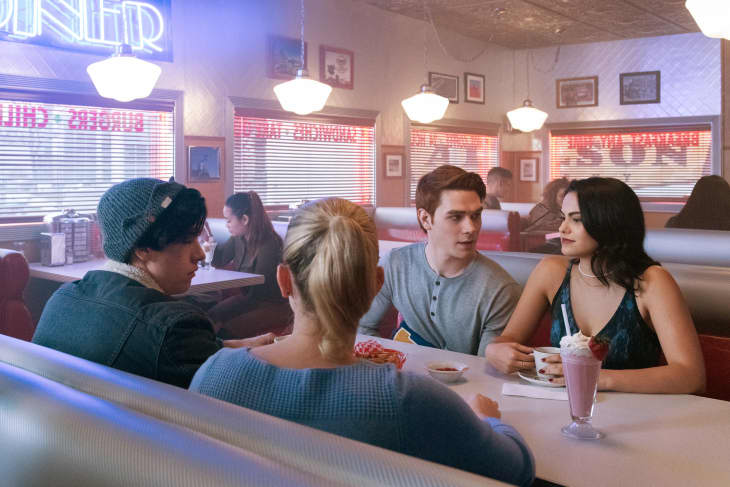 When "Riverdale" first premiered on the CW, it seemed to be another foray into the teen soap world, but this time with that Archie Comics source material to set it apart and a little mystery-based premise to give it a twist. But then, reader, things got weird.
"Riverdale" is a ride. What started as a show with some love triangles and teen angst mixed with high-school students investigating some suspicious activity in their quaint little town, went wild with real murders, fakeout murders, gang activities, the most intense high-school musical productions, someone called the Gargoyle King? Anyway, the show is insane and perfectly escapist.
If you've already caught up to where the series is in season four and you're looking to devour some similar shows—one can never have too many bananas teen dramas—here's a few streaming recommendations to satisfy that "Riverdale" hunger.
Since finding this Spanish-language teen drama on Netflix, I've made it my mission to tell everyone I know to watch. It follows a group of teens at an, ahem, elite prep school in Spain and it is addicting to say the extreme least. Like Archie and Co. from "Riverdale," the teens in "Elite" get up to some adult-sized trouble. They are super into murdering, covering up murders, wild parties, and lots and lots of romance. Okay, so sometimes that romance means throuples, but sometimes it is just swoony romance. Oh and one word of advice: If you don't speak Spanish, watch it with the subtitles on and not dubbing. It's much, much better that way.
Streaming on Netflix
Let's be honest, there would be no "Riverdale" without "Gossip Girl." Obviously, there were many teen soaps before it, but "Gossip Girl" and its deep dive into the dramatic lives of Upper West Siders really ran with the backstabbing and intrigue amongst teens. It's fun to look back on because it was boundary-pushing when it first premiered in 2007, but seems fairly on-par with current shows in this genre. If you're a fan of "Riverdale" and have yet to pay homage to "Gossip Girl," make this the time. Not only is it dripping in drama (and headbands, so many headbands!), but there are 121 episodes just waiting for you to feast on.
Streaming on Netflix
If you love the sheer insanity of "Riverdale" and are into some sci-fi, try the first season of Netflix original, "The Society." It's about a group of high-schoolers who return from a field trip to find everyone else in their town has disappeared. Obviously, the teens' first inclination is to get drunk and hook up, but eventually they realize they need to work together to figure out how to survive on their own and maybe figure out just what happened to their families. Is it the rapture? Are they in another dimension? Is it some type of experiment? The teens have to stop murdering, look up from their love triangles, and quit it with the hostile government takeovers long enough to figure out what is really going on here. Bonus: You'll meet a guy named Grizz who is a true gift to us all, you're welcome.
Streaming on Netflix