5 Shows to Watch When You've Caught Up on "The Dropout"
We independently select these products—if you buy from one of our links, we may earn a commission. All prices were accurate at the time of publishing.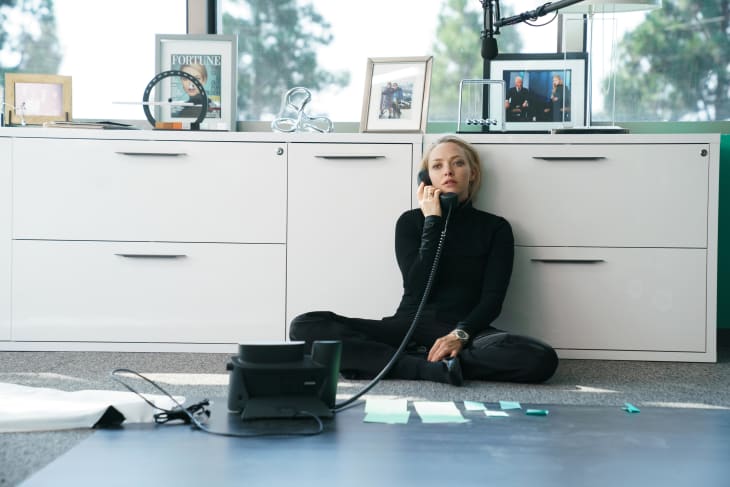 Hulu's "The Dropout" has become an instant hit with viewers. The miniseries is based on the true story of Elizabeth Holmes — the now-disgraced founder of Theranos. 
With Theranos, Holmes hoped to revolutionize the blood testing industry. She claimed her team invented new tech that would not only make blood tests more accessible but would also only require a single drop of blood to screen for a number of illnesses. The company was once worth a mind-blowing $9 billion, until it was revealed that there was no real science to support the claims.
Follow Topics for more like this
Follow for more stories like this
Holmes is played by Amanda Seyfried, who does an impressive job of stepping into Holmes' quirks and imitating her strangely deep voice. The story coupled with Seyfried's performance makes it hard to look away. 
But as Season 1 wraps, you might be looking for similar shows to take its place. Consider checking out one of these five series.
"WeCrashed" documents the true story of communal workspace company WeWork, and its enigmatic frontman, Adam Neumann. Like Holmes, Neumann hoped to change the world. With WeWork, he wanted to "revolutionize the way people and companies work," but it soon became clear he bit off more than he could chew. The company was founded in 2010 and saw huge success, with a valuation at over $47 billion, but things came crashing down when it filed for its IPO in 2019. The series stars Jared Leto as Neumann and Anne Hathaway as his  wife, Rebekah. 

Watch on Apple TV+
Bad Vegan: Fame. Fraud. Fugitives
"Bad Vegan" introduces viewers to A-list vegan chef Sarma Melngailis, who falls for a mysterious man. This man, who goes by many names, is both charming and chaotic. Over the course of their relationship, Melngailis' beau convinces her to send him over a million dollars. The money is never paid back and eventually leads to Melngailis neglecting her restaurant's rent and staff wages.

The docuseries is narrated by Melngailis, but as she recounts her experience, you may be left with mixed feelings. Honestly, the entire ordeal is a bit much, it even involves blood sacrifices, a promise of immortality, and a little bit of catfishing. You won't be able to look away.

Watch on Netflix
Like Holmes, Anna Delvey (aka Anna Sorokin) had big dreams and was determined to make them a reality. Sorokin pretended to be a  German heiress with trust fund of over $60 million. She spent her time capturing Instagram-worthy moments as she infiltrated the inner circles of NYC's most elite, stayed in luxury hotels, and took amazing trips around the world. Sorokin ended up defrauding upwards of $275,000.

The Netflix series is helmed by Shonda Rhimes, and Julia Garner's performance of Sorokin is near perfection.

Watch on Netflix
"Generation Hustle" is a 10-part docuseries with each episode dedicated to someone who has tried to hustle their way to the top. These hustlers usually come up with elaborate schemes and scams to get what they want. There is an episode about Sorokin, which is narrated by her former friend. There is also scam rapper Teejayx6, self-proclaimed Google alum Kyle Sandler, and a fake Saudi Royal.

Watch on HBO Max
"Dopesick" sheds light on America's struggle with opioid addiction. Based on the book "Dopesick: Dealers, Doctors and the Drug Company That Addicted America", by journalist Beth Macy, it tells the story of how Purdue Pharma marketed its opioid OxyContin. The company opted not to include the dangers and the addictive properties of the drug, while claiming "less than 1 percent" would become addicted. "Dopesick" stars Michael Keaton, Rosario Dawson, Kaitlyn Dever, and Will Poulter.

Watch on Hulu