4 Types of Lightbulbs and How to Identify Them
We independently select these products—if you buy from one of our links, we may earn a commission. All prices were accurate at the time of publishing.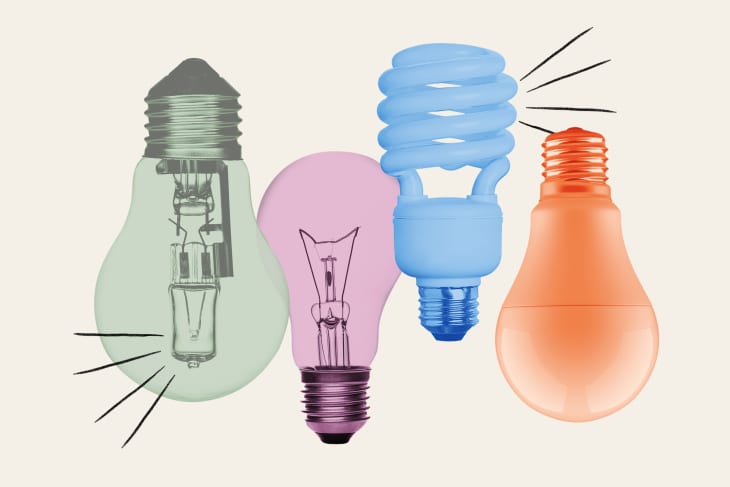 Going to the store to pick out lightbulbs is an exercise in patience — which type of bulb, how many watts, what type of light… there's a lot going on. One of the first steps to getting the right bulb is to know exactly what each lightbulb type is and the pros and cons of them. These are the four main types of lightbulbs and how you can identify them. 
Incandescent bulbs are the standard lightbulbs from the '80s and '90s — the actual bulb-shaped ones with the filament inside. You know the ones: You shake them and hear a rattle if they're dead. These bulbs are light on the pocketbook but cost more in the long run since the majority of the energy they create is wasted. Only 10 percent of the energy produces light and the rest is heat. Incandescent bulbs also don't have a huge lifespan. They last about a year before needing to be replaced. 
LEDs, or light-emitting diode bulbs, are great energy-efficient alternatives to other lightbulbs. They function well in varying temperatures, so many people use them as outdoor lighting. LED bulbs are also great for targeted lighting — like if you're working on a project that needs focused light. They're also typically dimmable and last for about 25,000 hours. When you're done with an LED, you can more than likely recycle it (just check with your waste management provider first).
Compact fluorescent bulbs — CFLs — are great for large spaces. They take a few minutes to reach peak brightness, but they last longer than typical bulbs and are more cost-efficient than LED options. You'll know CFL bulbs by their common shape: a spiral. They typically have trace amounts of mercury in them, so while they're recyclable after they burn out, you'll want to be careful handling them. CFLs also generally don't work with dimmers, and the light can be a bit intense once it heats up all the way.
These bulbs are a variation on incandescent lightbulbs. They were designed to be more energy-efficient, giving them twice the lifespan of incandescents. Halogen bulbs have a filament inside, but the bulb itself is filled with halogen gas. That means the filament will last longer. As far as type of light, halogen bulbs emit a white light. They simulate bright daylight. But they also get hot pretty quickly, so either let it sit for a bit before touching the bulb or wear thicker gloves to do it.