This Stylish Organizer Instantly Corrals Your Blanket Collection Without Taking Up Valuable Space
We independently select these products—if you buy from one of our links, we may earn a commission. All prices were accurate at the time of publishing.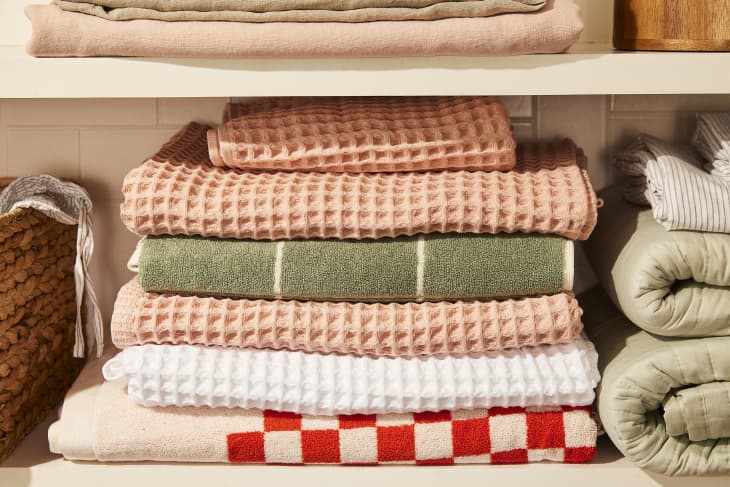 The key to having a cozy home is keeping your linen closet fully stacked. Whether friends are visiting for movie night or you're enjoying a lazy night in, there's something endlessly comforting about knowing that there are plenty of throw options for snuggling, be they faux fur, velvet-lined, quilted, or weighted. The downside is that bedding piles up fast and can take up a lot of space, especially when folded. And if you live in a small apartment, you might not have the shelf space to spare for comforters and duvets — at least, not if you have to displace your clothes in order to store them. The good news is that you can always find an organizer to take care of storage issues. In fact, there's a good one for this exact problem at Uncommon Goods. This floating blanket holder is a must for every small space dweller.
Follow Topics for more like this
Follow for more stories like this
Now, there are a couple features about this product that we need to confront right away. Clearly, this organizer is a bit of a splurge. You could certainly find a cheaper alternative, but we have yet to come across something else that looks as sturdy and stylish as this one, which is made of sustainably sourced walnut wood and hand-finished with natural oils. And once you have the display installed, it's there for good and not budging an inch. You'll undoubtedly get your money's worth just in terms of cost per use. This brings us to the second feature of note: You have to drill the blanket holder into the wall. This, in itself, is a quick and easy task, but we understand that it might anger your landlord if you're a renter. But if you do have the freedom to make such adjustments, this wall-mounted organizer will be a much more solid storage solution than, say, something that hangs or adheres onto the wall via magnets or adhesive stickers.
Now onto the fun part, A.K.A. how much floor and closet space you'll save with this floating blanket holder. This one little rack can hold up to 15 lbs. of blankets at a time, which is more than enough to accommodate an average-sized collection. Because this product floats in mid-air, you'll no longer have to maneuver around bins in tight rooms or squish everything onto your shelves. Placing neatly rolled-up blankets on this 35-inch tall rack will become a no-brainer. And you can't overlook its sleek design and hand-polished finish!