5 DIYs for Making Your Home Feel More Festive—That You Won't Have to Get Rid of After the Holidays
We independently select these products—if you buy from one of our links, we may earn a commission. All prices were accurate at the time of publishing.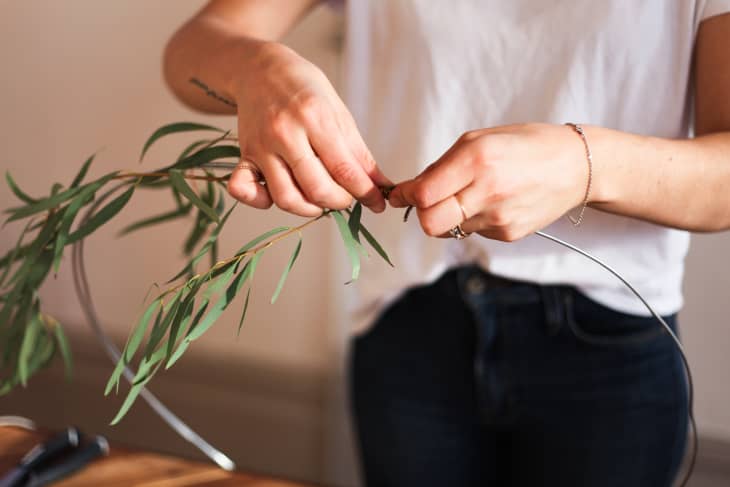 With everything that 2020 has thrust upon us, a little extra merriment is more than welcome this season. So if you find you aren't ready to take down your jolliest holiday decor when New Year's Day rolls around, no one will blame you.
Buuuut, if displaying your most festive wares beyond December isn't quite your speed, you can still enjoy a subtler level of celebratory flair long after the rest of the block switches off the holiday lights. The trick: incorporating decorative pieces that are cheerful and seasonal, but that don't scream "Happy Holidays," allowing you to repurpose them for months on end. Read on for five ideas to get you started.
Try Out a Minimalistic Welcome Wreath
You can't go wrong with a classic, bauble-adorned holiday wreath. But if you're after a door display that you won't need to keep in storage for the 11 other months of the year, consider a sleeker, pared-down approach. Luckily, achieving the look is easy. Take a cue from Make and Tell's geometric brass wreath that's dressed up with dried greenery and dangling ornaments. For the holidays, nail this ultra-cool display to your front door or hang it up inside. Then simply remove the ornaments come January to keep this low-key, modern look alive all year-round. 
Turn Fresh Greenery into Garlands
Yes, garlands are a holiday season go-to, but nixing pine in favor of other types of foliage, like Italian ruscus, lamb's ear, or eucalyptus (which, bonus, smells so good), is an easy way to make this piece feel more evergreen, says Your DIY Family's Nomita Vaish-Taylor. String together some stems and use your garland as a centerpiece for your holiday dinner table or as decoration for a mantelpiece or banister. You can also weave in string lights, bows, pinecones, ornaments, or dried berries to add more of a seasonal touch, and then remove those items for a simpler but still done-up look come 2021. Ready to spruce your space? Give this project from Your DIY Family a try. You'll just need eucalyptus, green florist wire, and twine. 
Create an Earthy Gift Display
You're probably used to hiding presents under the tree or in a covert location where they won't be found until it's time to start unboxing. But you might want to rethink that approach because, really, is there anything more festive and worth artfully displaying than beautifully wrapped gifts? (The answer is no.) One unique idea comes courtesy of Creative Jewish Mom, who designed an "eight nights of surprises" wall hanging by turning a tree branch into a suspended piece of wall decor and stringing up eight presents to dangle off of the limb. After it's time to take the gifts down and unwrap them, you can keep the branch displayed on the wall as-is or even add hanging flowers, greenery, or pieces of colorful thread or ribbon.
Decorate with Colorful Felt Trees
Pro tip: Counteract the shorter days and colder temps by injecting a dose of vibrancy and fun into your abode. In need of inspiration? Blogger Rebecca Propes has come up with just the way to do it by creating this whimsical felt tree forest craft. Following her instructions and using felt squares, wooden dowels, and birch coasters, you can create trees of all shapes and sizes for a super cute tabletop display. It's creative, not complicated, and not overtly seasonal. Display them on your mantel now with fluffy, artificial snow and confetti like Rebecca does here, and then move them to a kid's room or perhaps a shelf in your office to keep the playful spirit going all year long.
Transform Birch Logs into Candleholders
It only takes two main components to add a natural, cozy feel to your dwelling: birch logs and candles. As demonstrated on the blog Finding Silver Pennies, you can easily create a tabletop tealight display by drilling holes into the side of a long log, or into the tops of shorter pieces to construct holders for tapered candles. Whether it's a snowy day in December or an evening in June, the snow-white bark of the birch combined with abundant candlelight is sure to add an undeniable warmth to your space.
The Home for the Holidays vertical was written and edited independently by the Apartment Therapy and The Kitchn editorial teams and generously underwritten by Cointreau.