6 Unexpected Lessons Apartment Therapy's Home Director Learned While Buying Her First House
We
independently
select these products—if you buy from one of our links, we may earn a commission. All prices were accurate at the time of publishing.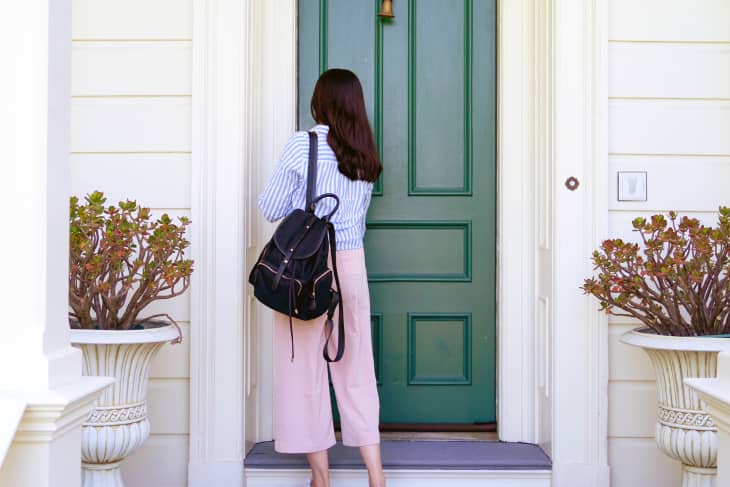 As a first-time homebuyer, I knew the journey toward owning a home would be bumpy because, well, that's what everyone told me. To add to that, the market has been very competitive — or it certainly was when my husband and I began seriously looking for homes about a year ago in New Jersey.
We had a laundry list of things we wanted — proximity to New York City, an older home with original character, plenty of sunlight, a decent-sized backyard, and projects to take on to personalize the space (versus a total gut reno) — but finding a home we liked that was semi-close to our budget was just the beginning. The even bigger challenges often come once you're ready to make an offer, and I'd liken it to a roller coaster ride of highs and lows as you move through each stage of the process. 
I learned so much through the roughly nine-month trajectory it took for us to find, make an offer, and close on our now home. I'm happy to report that we saved where we could, found little ways to edge out the competition, and ultimately felt like we knew as much as we possibly could about the place that we now call home before officially buying it. My hope is these nuggets will help you in your search, too.
A house that doesn't show well on the internet is still worth checking out. 
Outliers surely exist, but in general, a home is going to look its very best in the listing photos. House images on Zillow and other real estate sites are, after all, the primary way most people first get acquainted with a property these days. Given the strange angles and over-the-top lighting, you're essentially looking at beauty shot after beauty shot.
Still, I'd challenge you to go see a house in real life that might not look totally appealing in its photography. For example, our now-home's listing led with an exterior shot, as many do. The catch? The front yard of the home was covered with pavers, and hardscaping didn't exactly scream curb appeal to us. I truly believe that leading with an image that showcased this somewhat atypical feature (and what I perceived to be a lack of slick, professional staging throughout the rest of the shots) deterred many other homebuyers from even looking at the home, which is located in a pretty popular NYC bedroom community. The lesson here: Don't get caught up in the marketing machine, and you just might gain a competitive edge on a great property. 
Before making an offer, recruit a second opinion on a property if you can — or just come back yourself at a different time.
While house hunting, my husband and I often did the first pass at an open house either with or without our Realtor, depending on our availability on a given weekend. Anything we were interested in, we would either go back to again or call in reinforcements (read: my parents) to scope out the place. As a couple, my mother and father had bought three homes together over the course of their 40-plus year marriage, so they just instinctively knew to ask things that we didn't. My mother, in particular, also had no qualms about grilling the listing agents on how the open houses were going, how many offers were coming in, what they knew about the current homeowners — things I just personally felt awkward doing. Of course, our agent made this kind of small talk, too, but if you can recruit a friend or family member to do some reconnaissance for you, why not leave no stone unturned? You don't want too many cooks in the kitchen, but insight from a trusted person or two can be very valuable. 
I also made a point to try to see homes on cloudy days, when possible, to see how bad the sunlight situation could get. I loved our New York City apartment for many reasons, but the natural light — or lack thereof — wasn't one of them. After living in a darker place for just under 10 years, I wanted to put down roots in a sunny spot. Another good indicator when it comes to natural lighting? See what the homeowner's plant situation is like at an open house. Ask whether the plants are staged or they belong to the current owner. We admired the former owners' extensive collection of healthy greenery at our now-home, and they even left us a couple to meld with our own plants. You can also use an app like Sun Seeker to track where the sun rises and sets relative to the property you are looking at. It can also provide gardening insight, particularly if you're house hunting in fall or winter (if you live in a climate that changes seasons, that is).
You can assemble your own dream team of providers. 
Your real estate agent will probably push their agency's preferred lender, lawyer, and home inspector because established relationships — and, let's be honest, referrals — make the housing industry go 'round. These suggestions are absolutely worth checking out, and there's power in the vetting a seasoned agent and agency have done to establish these connections. That said, you shouldn't feel obligated to work with anyone that's put in front of you just because they're convenient. You are more than within your right to shop around for any and all providers if you're willing to do the legwork. 
I did work with my agent's lender and inspector, but I brought in an "outside" lawyer, who was a family friend, and other "inspectors" (more on that below). Although attorney rates are typically flat and fairly standard based on experience and geographic location (inspection fees are typically comparable, too), you may save a bit on your closing costs by shopping around for these services.
If you're buying an older home, consider hiring more than one inspector. 
On the subject of second opinions, my husband and I have a good friend who's a contractor, so we asked him to accompany us on our home inspection. We had waived the right to ask for repairs or credits against anything non-structural in our offer (which was, unfortunately, a reality of being competitive in our town's market when we bought), so we wanted to have an extra layer of confirmation that everything was in working order. Our friend's professional opinion was also great to get a sense of how different things we might like to do someday — such as a bathroom renovation or closing up a wall — might cost, as well as insight on the foundation, supporting walls, and flooring.
Similarly, our hired inspector was very thorough, but he isn't a plumbing expert, so we contacted plumbers on our own to get someone to inspect the pipes at our place. Again, this cost a few hundred dollars upfront and took time to schedule, but they did end up recommending a cleaning, which the homeowners were responsible for covering or crediting based on our offer, as pipes are structural. Bringing in four different pros might sound like overkill, but again, it's better to know what's going on with a home long before it's yours. 
Don't approve a rate lock that will expire before you close on the house.
This one is very specific to our particular home-buying situation, but it could happen to you. While rate locks tend to be something you pay for to protect yourself against climbing interest rates (which can cost you significantly over the life of a fixed rate, long-term loan), you have to be vigilant about the dates you're "locking" in the rate for — as well as monitor what's going on with the Federal Reserve Bank. Your agent and lender should be aware of the goings-on with the latter, but they'll often push you to officially complete your mortgage application (moving out of the pre-approval phase) to lock in the rate ASAP — especially if movement in the rates seems particularly imminent.
The typical 30-day lock period often works out just fine, but in our case, we knew the homeowners of the house we made an offer for in late June didn't want to close until early August. Mathematically, the rate lock we were pushed to approve on the front end wasn't going to last the cycle of our closing — it was a few days short. So we got hit with a lock fee extension. I was able to negotiate down this fee because no one had ever informed us that this could happen. If they had, we wouldn't have approved the lock fee so early. The lesson: You want to make sure the lender knows about any possible delays that could pop up during the transaction.
You might owe more than you think at your closing. 
To this day, I still have no idea how the amount I was told to bring to the closing by our lawyer's paralegal didn't match up with our lender's figures; I had to wire extra money to our lawyer that day for the deal to go through. It wasn't a huge discrepancy — maybe a thousand dollars or so — but it definitely made me feel uncomfortable, and we had to call the lender at our lawyer's office to get a rundown of what mistake had been made. 
Contracts are prepared by people, so you can be told the wrong information over email or phone. If this happens to you, ask for a thorough explanation to make sure the discrepancy is legitimate. Then be sure to have your checkbook handy, or check the limits of your bank's online wiring capacities so you can do a last-minute transfer if need be.