Updates To Your Kid's Room You Can Make Without Spending A Cent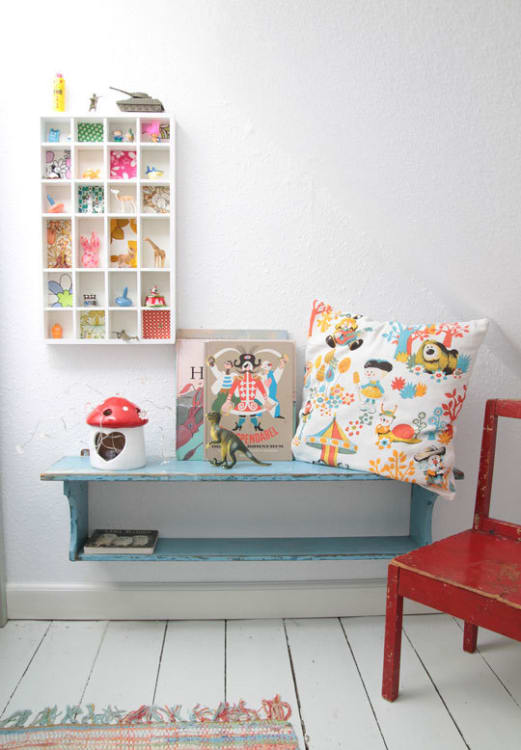 Missed the Style Cure? Or avoided it because you knew it was time to save money? Well, no need for your kids' room to be stuck wallowing in its boring-ness because of all that. Here are ten ways you can update a child's room for absolutely no cost!
1. Hang some home-made art. If you've got kids, you're bound to have some lying around. It's okay to be selective — choose art that fits with the color scheme you have set up for the room. No frame? No worries! Washi tape, skirt hangers, clip boards, magnets, triangles of contact paper — any of these will also work just fine!

2. Try some grown-up bedding on little kid beds. This is definitely not an option for crib dwellers, but for bigger kids, have you considered trying out your own larger bedding on their beds? Flat sheets can be folded under their mattress, and pillowcases should be the same size. It's amazing the difference switching out some tired children's bedding for crisp white sheets can make.

3. Make a throw pillow. No need to head to the craft store — a new throw pillow can be made from an old blanket, button-up shirt, t-shirt, tea towel, or that fabric you've been semi-hoarding waiting for the right use.

4. Switch out the toys. When was the last time you really thought about which toys were on display and which were put away? Go through the toys you've got and select a few choice options for display — ones that match the room's style and color scheme. Don't worry, the rest won't be given or thrown away — just store them out of sight if you can, in baskets, bins, in the closet, or under the bed. The same advice goes for books you have on display - pick your child's favorites or the ones with the most striking illustration to display.

5. Shop your house: Repurposing things from around you home is a common budget-conscious practice when putting together a nursery and there's no reason you can't do it for a child's room of any age. Bowie's parents, above, moved in this dresser to act as a changing table, but think about smaller items, too, - throws, pillows, art, a stool, or even just decorative knick knacks.

6. Change your curtain height: hanging your curtains higher than your window frame is a great visual trick to make a room seem taller than it really is. In the example above the windows are actually rather small, but this idea is effective even with large windows.

7. Bring in nature - Eulalie's parents hung a branch in her room and used it as a stand-in closet, but this idea could be as simple as collecting acorns or pinecones and displaying them in a bowl (on a high shelf in a young child's room) or displaying beautiful leaves or pressed flowers.

8. Display Your Best Looking Books: Books are some of the most attractive things we own so why not display your kids' favorites or those of your favorite illustrator. Even if you don't have a picture ledge like above, prop them up book store style on top of shelves.
9. Rearrange: When I Style Cured my kids' shared room, I had two small rugs pushed together. Simply separating them made the room feel larger and gave some definition to each child's bed. Take stock of your child's room - what could you move or rearrange for a new look and feel? All it takes is a bit of muscle so if you decide you don't like it - move it back!
10. Remove junk and give the room a deep clean. This isn't technically a decor update, but seriously, nothing refreshes a room like getting rid of junk and truly making everything you have left sparkle. Prioritize this one!
Got another suggestion for a no-cost room update? Share it below!

(Images: 1. Tracy Nors / Indigo's Hyggelig Nook Room 2. Jake's Place / My Play Room: Kaitlyn 3. Ashley Poskin/The Bingham's Budget & Design-Friendly Family Home 4. Celeste Sunderland / Sacha & Iris' Playful Sleep Space 5. Marcia Prentice/Jennifer's Designer Touch for a Spanish Style Home 6. Ruby Jewel Studio/Bowie's Rockin' Room 7. Oakland Avenue/ Eli's Fab Formal Catch-All 8. Claire Connell/ Eulalie's Playfully Bohemian Nursery 9. Rebecca Proctor/Andrew & Rebecca Modern Vintage Country Home 10. Alison Gerber 11. Beth Callaghan/Cooper's Blue & Pink Palace)