A Home Stager Picks 11 Items That Will Upgrade Your Bedroom for Less Than $10
We independently select these products—if you buy from one of our links, we may earn a commission. All prices were accurate at the time of publishing.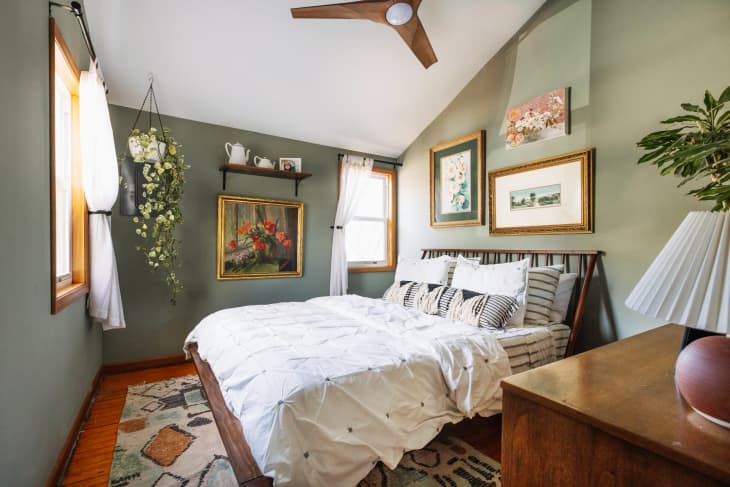 If you grew up in the '90s, you probably had the one hot accessory that everyone used to upgrade their bedrooms on a budget: stick-on glow-in-the-dark stars for the ceiling. And if you were anything like me (and so many other '90s kids), you maybe also bought a cheap bead curtain, a blacklight, and a black velvet fractal poster. If you ask me, my bedroom was the raddest on the block.
But today, styles are a bit different — even if you were a '90s kid, you probably want something inexpensive and a bit more grown up now. In order to figure out the best things to buy, I talked to Robin McGlinchey, owner of Pennsylvania-based HomeScape Stagers, to get her advice on perfect bedroom purchases for less than 10 bucks.
First, she offered this piece of advice: "Ten dollars these days doesn't get you much, so the key is to be creative in your approach." Paint makes the biggest impact, and don't be afraid to scour Facebook Marketplace, Craigslist, or freecycle groups to nab nearly free stuff.
Head to the hardware store and look for containers of returned paint or on-sale mismatch batches. "When buying mismatched paint, if you can't cover the wall in a solid color, create a faux finish, a trompe l'oeil, or graphic on the wall," McGlinchey says.
Picture frames don't have to be used for just pictures — you can really frame anything that catches your eye. "Old frames can be used many ways, and sometimes you can find them for free online," McGlinchey says. "I would group them on a wall, either empty or with photos, calendar art, or old book illustrations."
"Pillows are used strictly to bring in more texture, a pop of color, and to cozy things up," McGlinchey says. And shams (or throw pillows!) are pretty inexpensive to achieve this, especially if you hit the thrift store.
Fabric can be used for quite a lot of things. McGlinchey suggests intertwining some to hang from the ceiling over the bed or as a headboard, or weaving strips together with other objects or fabric to create coverlets and pillow covers.
Use your bargaining power to score a great deal on some secondhand lighting. "Don't be afraid to offer a lower price," McGlinchey says. "Look at the shape and don't worry about the finish, because that can be painted or a patina created to make something fabulous."
Host a plant swap with some friends so you can all gather cuttings of each other's plants and propagate your own. Your bedroom can become a green sanctuary for free.
Who needs to buy lampshades when you can make your own for much cheaper? "Create a lampshade from any kind of paper," McGlinchey says. "Collage it, fold it, add holes for light to escape. I love being creative. Not every experiment is a winner, but it can lead to great things!"
OK, to be fair, these last four suggestions are mine. I use them currently in my bedroom and office to create a space that feels comfortable, calm, and creative. So for numbers 8 through 11, try a thrifted mirror to make the space look bigger, artwork you or your friends have made, a crystal sun catcher to throw colorful rays around the room, and scented candles to spruce up the aroma.