A Home Stager Picks 5 Items That'll Upgrade Your Powder Room for Less Than $10
We
independently
select these products—if you buy from one of our links, we may earn a commission. All prices were accurate at the time of publishing.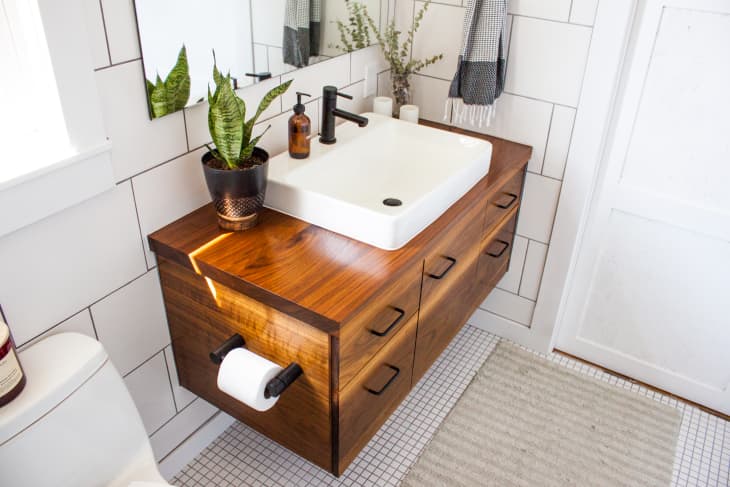 Bathroom renovations can be pretty pricey. According to Home Advisor, it costs an average of $125 per square foot to redo a bathroom, which has the potential to turn even a tiny powder room remodel into a big investment. This might seem like bad news if you're on a tight budget, but there's hope.
"Updating a powder room does not have to cost an arm or a leg," says Mattie Sheppard, an accredited staging professional, or ASP, and strategic interior design advisor at Real Estate Bees. "For $10 or less, you can make that half bath look fresh and amazing." 
Whether you're looking to welcome guests or woo buyers, here are some quick, easy, and inexpensive ideas to revamp your half bathroom.
Light bulbs are utilitarian, but they don't always have to look the part. If you've got exposed bulbs in your light fixture, Sheppard says swap them out for ones that are more decorative. I happen to like these light bulbs that look like diamonds.
New pictures are an easy way to change the look of the bathroom, but super stylish wall decor can get expensive. Sheppard says you can shift into thrift mode by framing a piece of printed fabric or even a decorative shopping or gift bag. "It will look amazing and no one will ever know it's a shopping bag," she says. She suggests shopping at Dollar Tree for inexpensive frames.
Upgraded Vanity Accessories
A new soap dish or dispenser might distract from an older vanity, but it doesn't have to be brand new. "Just purchase a roll of your favorite ribbon or bling and wrap it around the soap dispenser, soap dish, or towel holder," says Sheppard, who notes a hot glue gun might come in handy for this DIY project.
You might be reluctant to commit to an accent wall for your living room because of the amount of work involved, but an accent wall in a small half bathroom is a much quicker DIY project. Whether you go with paint or wallpaper for your focus wall, there's only one thing to remember: "Make sure it's a color that pops," says Sheppard.
Aside from being useful, new hand towels are a quick and inexpensive way to revive an older or plainer bathroom. Sheppard suggests picking ones with a pattern to add a pop of fun. You could consider holiday-themed ones or simply go with ones that coordinate with the rest of your bathroom.
Here's a bonus idea for you: A clean bathroom is always a good look, but a scented one can be a game changer, says Brittany Farinas, CEO and creative director at Miami-based design studio House of One. "Whether it's a candle or oil diffuser, [a beautiful scent] completely transforms the way they can experience their home," she says. To get the multisensory look on a budget, buy some reed diffusers and insert them in an inexpensive container filled with your favorite essential oil. You can go with your own signature scent here, or pick from among bathroom-friendly ones like lavender, eucalyptus, lemon, orange, mint, or rosemary.

Need more inexpensive inspiration for your powder room? Sheppard says to pop into a thrift store like the Goodwill or Salvation Army for items to add. For discounted fabric and items, she likes Joann Fabric, Family Dollar, Dollar Tree, and other similar retail outlets.