Use Bing Cashback For All Your Holiday Shopping!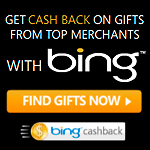 Recoup some of your costs this festive season by using Bing to search for your holiday gifts.
Bing Cashback is a great way for you to save money when you shop online. Find great deals on products from hundreds of brand name stores that you know and trust. You'll earn a percentage of the product price as cashback. The search advertising fees from participating stores are passed on to you. After we wait for potential returns and exchanges, your saving will be rewarded to you by your choice of a deposit to your PayPal account, direct deposit to your bank account, or a check in the mail. It's that simple. And it's a great way to save some cash this holiday season.