Useful, Beautiful, Everyday Objects: 10 Good Sources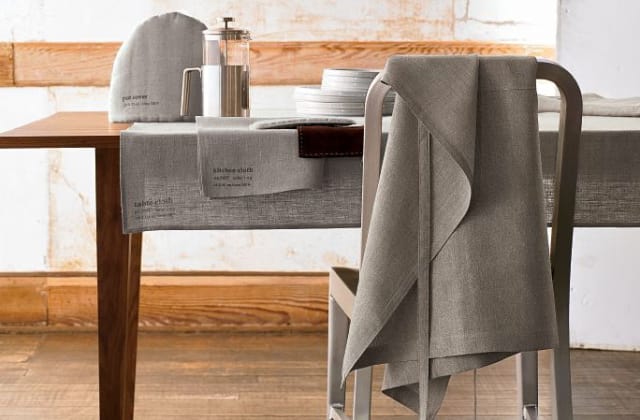 Durability is an important aspect of green design, and it's one that's often overlooked in the rush to find new technologies and processes. Products that have longer lifecycles are better at avoiding the landfill, and they save money by remaining useful over many years. If you're looking for something beautiful to give this holiday that's sure to be used, here are 10 good resources.
Shaker Workshops
Based out of Arlington, Massachusetts, they have an webshop and a brick and mortar showroom. Handmade using time-honored Shaker techniques, their products include peg rails, wooden kitchenware, and furniture.
Life Without Plastic
Devoted to providing alternatives to plastic products, this Canadian store stocks objects made from aluminum, ceramic, enamel, glass, lacquerware, stainless steel, glass or wood. Shop here for tableware, food storage, and grocery bags.
Canvas
Focused on fair trade housewares that are as gorgeous as they are utilitarian, this New York (and online) store stocks plenty of higher-end essentials, including blankets, pillows, tableware, glassware, lamps, and furniture.
Brook Farm General Store
Located under the Williamsburg Bridge in Brooklyn, this shop just launched a new e-commerce site. Like an old-fashioned general store, they stock the basics, but the quality (and the prices) are much higher than your average five and dime.
Alder & Co.
Just opened last summer in Portland, Alder and Company sells simple things like wool blankets, grocery bags, garden boots, and kitchen tools. Although their e-commerce site isn't up and running yet, phone ordering is currently available.
Flip and Tumble
This Bay Area company makes colorful reusable shopping bags that fold up into a ball. Sewn from ripstop nylon in 10 colors, the bags come in a variety of shapes and sizes (for everything from groceries to jewelry) and prices range from $3 to $12.
Iris Hantverk
This Swedish company employs visually impaired people who hand-craft cleaning tools and scrub brushes from wood and natural bristles. Brushes can be purchased through their shop in Europe, or through retailers like Brook Farm General Store and DWR.
Fog Linen Work
Yumiko Sekine runs this Japanese company, which makes lovely linen tablecloths, aprons, and bedspreads. You can buy Fog Linens through through modern retailers, including DWR (shown above and linked below), Pod, Horne, and Brook Farm General Store.
Baileys Home and Garden
Based in the UK, Baileys has a wide range of beautifully crafted utilitarian products, from lighting to cookware to garden tools, all with a classic but modern aesthetic. Shop online through their mail order catalog, by phone, or in their UK store.
Three Potato Four
This vintage webshop has an instantly recognizable aesthetic that includes lots of lettering and graphics. Useful housewares include antique boxes, industrial lighting, glassware, pitchers, garden tools, and blankets.