There's One Spot It's Easy to Miss When You Vacuum—Here's How to Clean It
We independently select these products—if you buy from one of our links, we may earn a commission. All prices were accurate at the time of publishing.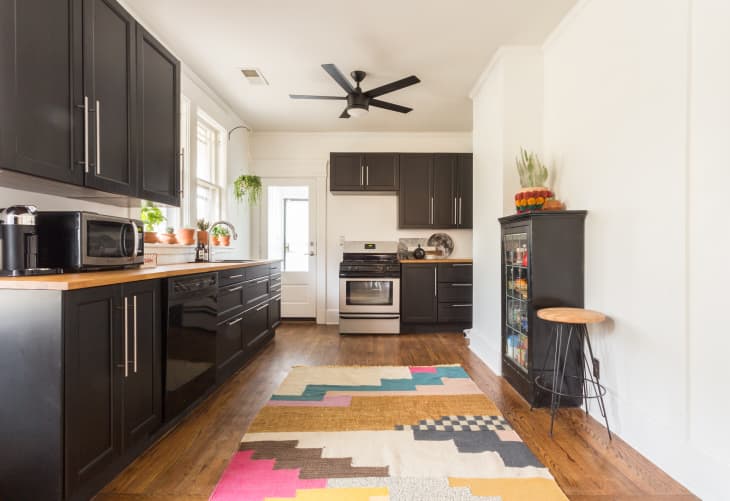 Apartment Therapy Weekend Projects is a guided program designed to help you get the happy, healthy home you've always wanted, one weekend at a time. Sign up now for email updates so you never miss a lesson.
Follow Topics for more like this
Follow for more stories like this
I'd be willing to bet that the mental image you have of "cleaning the house" involves a vacuum cleaner. The hum and heft of the machine—and the tidy lines it traces across the carpet—goes hand-in-hand with our concept of a picked-up home.
Of course, you use your vacuum cleaner in more detailed ways than merely cleaning carpets and rugs. Dusting the toilet, getting sand and dirt out of the car, and sucking up dirt from window tracks are all made speedy and simple with a pass of the vacuum cleaner fitted with the right attachments.
But there's one spot that's easy to miss, perhaps because it's so close to the thing we vacuum most. If you have area rugs, you most likely have rug pads underneath them (if you don't, you should). Rug pads are typically cut to fit slightly smaller than your rug, about an inch or so shorter than the area rug all around.
If you lift your rug, you're likely find a line of dirt under the rug, resting alongside the edge of the rug pad. But today's the day we finally get it.
This Weekend: Clean the hidden dirt lines around your rug.
You need a vacuum cleaner, ideally fitted with the crevice attachment, if you have one.
First, move any furniture that's resting on the edges of your area rug off the carpet completely. Then working your way around the perimeter of the rug, lift portions of the rug and run the vacuum cleaner along the edge of the rug pad. Repeat until you've gotten every edge of every rug (or just as much as you can fit in to your schedule this weekend).
While you're at it, you can vacuum the top of the area rug, paying special attention to the portions that are typically underneath the furniture. This has nothing to do with "dirt lines," but you might as well do it while the furniture is out of the way!
You can catch up with weekend projects right here. Share your progress with us and others by posting updates and photos on Instagram and Twitter with the hashtag #atweekendproject.
Remember: This is about improvement, not perfection. Each week you can either choose to work on the assignment we've sent you, or tackle another project you've been meaning to get to. It's also completely okay to skip a weekend if you're busy or not feeling the assignment.