5 Ways to Upgrade (or Even Start) Your Video Game Hobby, From Finding the Right Console to Storing Games
We independently select these products—if you buy from one of our links, we may earn a commission. All prices were accurate at the time of publishing.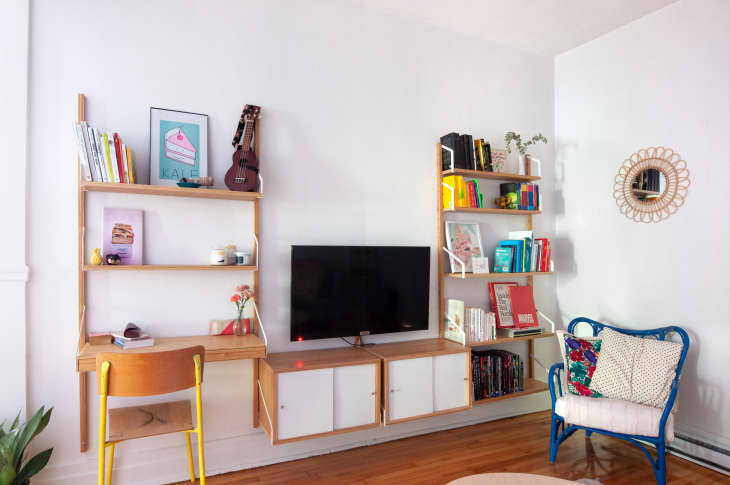 I was late to the (ahem) game when it comes to video games. Other than occasionally playing a round or two at a slumber party, it wasn't until adulthood that I became someone who owned video games and sought them out as a form of entertainment. The "a-ha!" moment came when my partner and I were living in a small New York City apartment: From our bedroom window, we could see neighbors playing their new Nintendo Wii in their living room. It looked like fun — not long after, we bought our own gaming system. 
Video games have always been popular, but their status as a pastime for grownups has only risen in the wake of the coronavirus pandemic. People who had never owned a gaming system suddenly became interested in video games, and many stores experienced a shortage of consoles. In March 2020 sales of the Nintendo Switch actually doubled from the year before. 
If you're looking for something fun to keep you occupied while staying home, video games can be a great way to add some excitement into your life, and even connect with friends and family. Here's what you need to know about finding the right gaming system for you, incorporating video games into your living space, and turning your new hobby into a bonding experience. 
One major do? Dedicating space to your new hobby from day one.
Getting involved in gaming doesn't mean your house has to look like an arcade (unless you want it to). Unlike the video game consoles you might remember from childhood with lots of wires going everywhere, the gaming systems of today are sleek and streamlined. Wireless controllers help make gaming storage significantly easier and a lot less tangled. 
It's helpful to invest in not only the video game system but also dedicated space for your console and all the games you are likely to collect. My partner and I like to keep our Nintendo accessible but also hidden in a low console cabinet under the television. We keep everything our gaming system needs inside and keep the power cords running up into the back of the drawers. 
If you also mount your television on the wall, you can use a cable cover to conceal not only your television's power cord but also the additional cords connecting your gaming system to your TV. I bought a simple, under-$14 cover from Home Depot and painted it to match the wall color for a cohesive look. 
Find a game-storage system that works for you (and yes, digital downloads count!)
Aesthetically pleasing bins or baskets that can be stored on shelves or in an existing media console cabinet can be helpful to keep the games out of sight when you aren't playing. You can also buy digital copies of games directly from your console which will help eliminate clutter.
How to find the right game for you and for your mood:
Enjoying video games is a lot about finding the right system and games for you. When it comes to current consoles, you'll be choosing between Sony's PS5, Microsoft's Xbox Series X|S, and the Nintendo Switch. You may have heard that the current generation of Sony and Microsoft consoles are really tough to get your hands on, due to pandemic-related supply chain problems. The good news is that the previous generation of those consoles — PS4 and Xbox One — are great consoles that are available at lower prices (and often used!), and still being played by a ton of people.
If you haven't had a gaming system before, it's always a good idea to start by looking at the different games that are available for each. The vast majority of games available for Xbox are available for PlayStation, but each system also has a catalog of games that are exclusive to the PlayStation or Xbox. And there are a ton of Nintendo games you can only play on the Switch or Switch Lite. Talk with friends, coworkers, and relatives about what video games they are playing — you might be surprised to learn how many of your friends and coworkers of all ages are gamers! And if you think you might be interested in cooperative gaming with friends, make sure you know which consoles they're using because most of the time you can only play together when you each have the same system. And of course, you can also talk with employees at video game stores and ask for recommendations for what games might be the best fit for your interests. 
Due to the pandemic, it might not be safe for you to try games out at your local electronic store or big-box retailer, but there are other ways to virtually test-drive games before buying them. You can follow video game brands and influencers on social media for to get a sense of what different games look and play like. And there are a ton of streams on Twitch and YouTube of gamers playing just about any game you can think of. Not only are these clips useful for getting a sense of what games you might want to purchase, they're great resources any time you're stuck in a game and need a little help figuring out what to do next.
Use video games as part of your much-needed "me time."
My enjoyment of gaming has only intensified since the beginning of the pandemic. Video games are not only a fun way to become immersed into a different universe, but they're also a way to detach from the stress of the "real" world. And it turns out that video games aren't just fun, they might even be good for you: The American Psychological Association notes that although sometimes people have negative perceptions of video games, they actually can boost learning, health, and social skills. 
You can also reap the benefits of a quality video game session with another person. Even though we had to cancel multiple vacations in the last year and have spent almost all of our time at home, video games have given me and my partner the opportunity to feel like we are going somewhere, doing something new, and spend engaging quality time together.
… And turn your hobby into a bonding experience at home!
Video games might have a reputation of being a solo activity, but gaming can also be a great way to connect with other people. According to researchers at Radboud University Nijmegen in the Netherlands, "more than 70 percent of gamers play with a friend, and millions of people worldwide participate in massive virtual worlds through video games." (This research was conducted pre-pandemic, so it will be interesting to learn in years to come if and how a year of lockdown impacted people's video-game habits.)
Not only can getting involved with video games help you to make new friends online, bonding over multiplayer games can be a fun way to bring you closer to your partner or roommates. Cooperative play games allow you to play together instead of against one another which can make for a fun game night, or a great way to pass the time together on pandemic weekends when you might feel like there is nowhere to go and nothing to do. I recommend Mario Kart 8, Super Mario Bros U, and Yoshi's Crafted World as great Nintendo Switch games for roommates or couples looking for collaborative play.